CORRECTION article
Corrigendum: Simplified Assay for Epigenetic Age Estimation in Whole Blood of Adults
Laboratorio Investigacion 10 and Rheumatology Unit, Instituto Investigacion Sanitaria—Hospital Clinico Universitario de Santiago, Santiago de Compostela, Spain
In the original article, there was a mistake in Table S1 as published. Sequences of the primers to amplify 4 of the CpG sites were wrong. The corrected Table S1 appears below. The authors apologize for this error and state that this does not change the scientific conclusions of the article in any way.
TABLE S1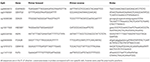 Table S1. CpGs used in the 8 CpG DmAM, the nearby genes, and the primers and probes used to analyze them.
The original article has been updated.
Conflict of Interest Statement
The authors declare that the research was conducted in the absence of any commercial or financial relationships that could be construed as a potential conflict of interest.
Keywords: epigenetic, biological age, blood, DNA methylation, MS-SnuPE, biomarker
Citation: Vidal-Bralo L, Lopez-Golan Y and Gonzalez A (2017) Corrigendum: Simplified Assay for Epigenetic Age Estimation in Whole Blood of Adults. Front. Genet. 8:51. doi: 10.3389/fgene.2017.00051
Received: 30 March 2017; Accepted: 10 April 2017;
Published: 21 April 2017.
Edited and reviewed by: Rui Henrique, Portuguese Oncology Institute Porto, Portugal
Copyright © 2017 Vidal-Bralo, Lopez-Golan and Gonzalez. This is an open-access article distributed under the terms of the Creative Commons Attribution License (CC BY). The use, distribution or reproduction in other forums is permitted, provided the original author(s) or licensor are credited and that the original publication in this journal is cited, in accordance with accepted academic practice. No use, distribution or reproduction is permitted which does not comply with these terms.
*Correspondence: Antonio Gonzalez, agmartinezp@ser.es