Correction ARTICLE
Corrigendum: Variations in Vaginal, Penile, and Oral Microbiota After Sexual Intercourse: A Case Report
1Department of Health and Genomics, Center for Advanced Research in Public Health, FISABIO, Valencia, Spain
2Department of Nutrition and Food Science, Complutense University of Madrid, Madrid, Spain
3Centro de Diagnóstico Médico, Ayuntamiento de Madrid, Madrid, Spain
4Network of Epidemiology and Public Health, CIBERESP, Madrid, Spain
A Corrigendum on
Variations in Vaginal, Penile, and Oral Microbiota After Sexual Intercourse: A Case Report
by Carda-Diéguez, M., Cárdenas, N., Aparicio, M., Beltrán, D., Rodríguez, J. M., and Mira, A. (2019). Front. Med. 6:178. doi: 10.3389/fmed.2019.00178
In the original article, there was a mistake in Figure 1 as published. The penile swab compositions for H2O2 and 15H2O2 were mistakenly swapped. Similarly, the vaginal swab compositions for H2O2 and 15H2O2 were also mistakenly swapped. The corrected Figure 1 appears below.
FIGURE 1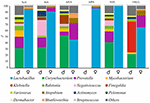 Figure 1. Microbial composition of penile and vaginal swabs. Most abundant genus were plotted in different colors. NoS, microbiota without sexual intercourse; BeS, immediately before sexual encounter; AfUS, 4 days after unprotected sexual encounter, no oral sex and with ejaculation inside the vagina; AfPS, immediately after vaginal sex with condom and oral sex; H2O2 after 1 day of H2O2 treatment; 15H2O2, after 15 days of intermittent H2O2 treatment. Male and female samples are indicated with the corresponding symbol.
The authors apologize for this error and state that this does not change the scientific conclusions of the article in any way. The original article has been updated.
Keywords: microbiota, vagina, penile, oral, oral sex, bacterial vaginosis, Lactobacillus
Citation: Carda-Diéguez M, Cárdenas N, Aparicio M, Beltrán D, Rodríguez JM and Mira A (2020) Corrigendum: Variations in Vaginal, Penile, and Oral Microbiota After Sexual Intercourse: A Case Report. Front. Med. 6:294. doi: 10.3389/fmed.2019.00294
Received: 18 October 2019; Accepted: 29 November 2019;
Published: 09 January 2020.
Edited and reviewed by: Zhongheng Zhang, Zhejiang University, China
Copyright © 2020 Carda-Diéguez, Cárdenas, Aparicio, Beltrán, Rodríguez and Mira. This is an open-access article distributed under the terms of the Creative Commons Attribution License (CC BY). The use, distribution or reproduction in other forums is permitted, provided the original author(s) and the copyright owner(s) are credited and that the original publication in this journal is cited, in accordance with accepted academic practice. No use, distribution or reproduction is permitted which does not comply with these terms.
*Correspondence: Alex Mira, mira_ale@gva.es