Impact
Frontiers ranks as the 4th most-cited publisher among the 20 largest publishers with an average of 3.65 citations per article.
Articles published in our journals have been viewed and downloaded more than 500 million times from research and innovation hubs around the world, have received over 1 million citations and were mentioned over 25,000 times in the news and 700,000 times on social media.
Frontiers journals also consistently rank among the world's most-cited in their fields and in the top Impact Factor and CiteScore percentiles.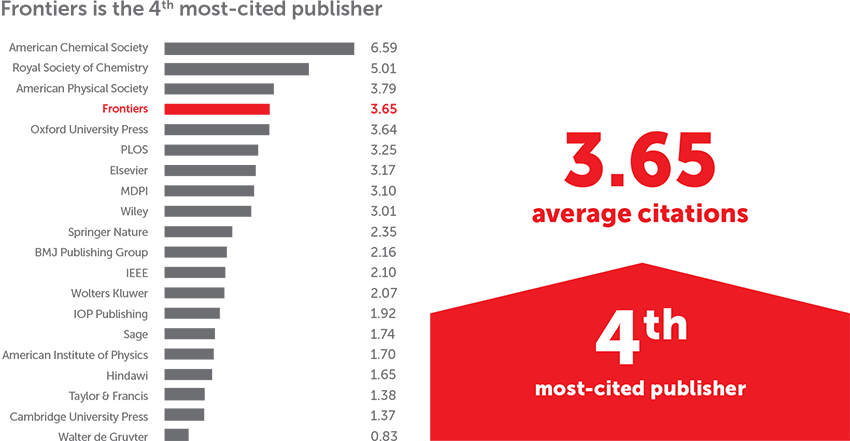 Analysis of the world's 20 largest publishers by volume, ranked by number of average citations received to articles published in 2015, 2016 and 2017 (Scimago, 2018). Frontiers ranks 4th most-cited with an average of 3.65 citations per article. Read the full analysis here.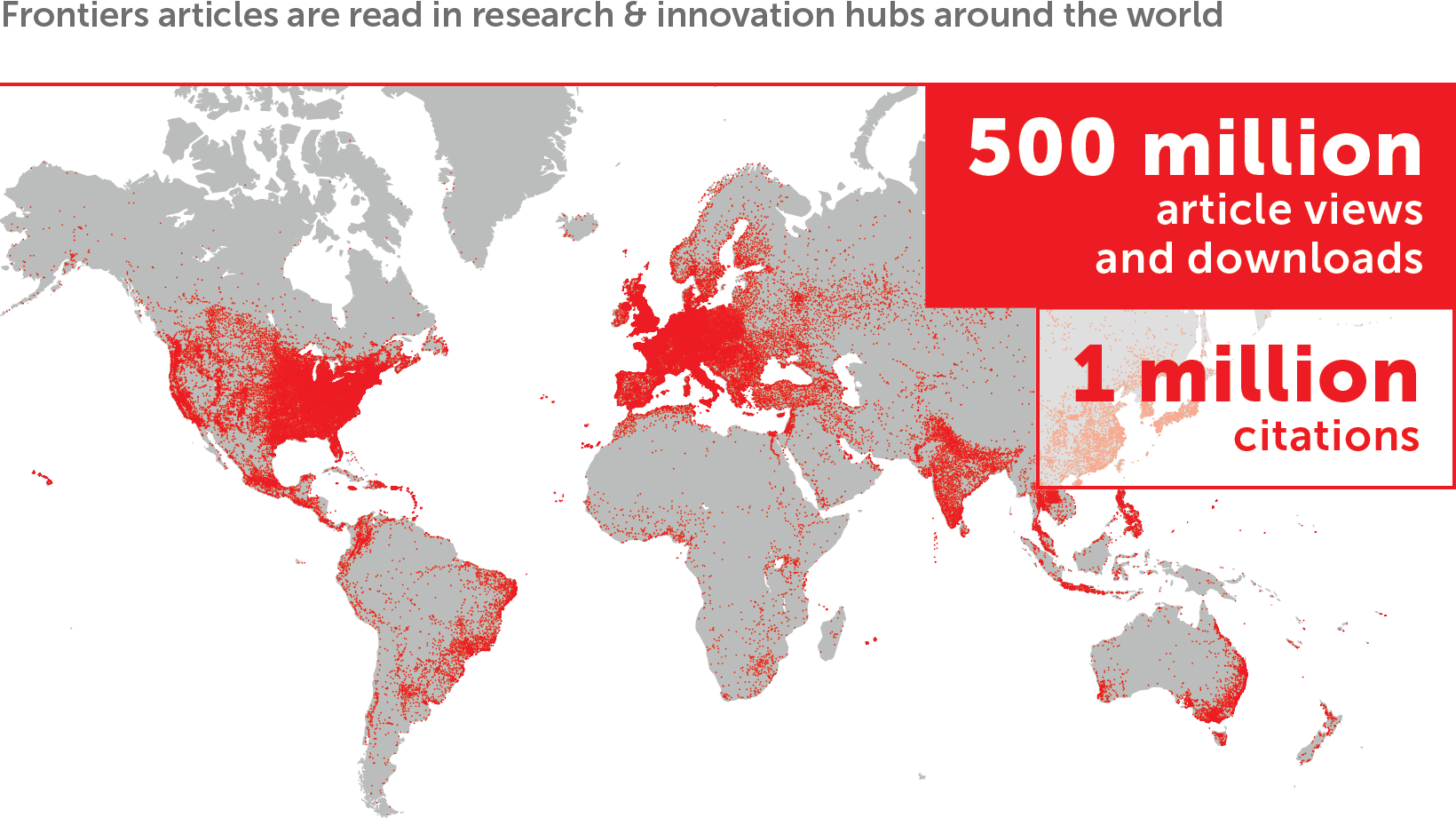 Data to October 2018 (Frontiers)

Data to October 2018 (altmetic.com).
At Frontiers we build the tools and services that enable research communities to comprehensively measure the impact of articles, authors and journals.
We believe that researchers should be evaluated on the impact of their individual research and not by the Impact Factor of the journals in which they publish. Therefore we have pioneered a set of alternative metrics.
This started in 2008 with view and download counts added to all Frontiers articles. These article metrics expanded to include article citations via Pubmed and Scopus, reader demographics – including location, seniority and field of interest – and press and social media mentions via Altmetric.
We introduced author metrics in 2011 through our research network Loop, which aggregates article data for each author. Recognizing that a researcher is more than the sum of their articles and makes many more contributions to their research community, we added editorial and review contributions to Loop profiles in 2016.
To benchmark the reach, influence and quality of our journals, we measure and communicate both traditional as well as alternative indicators of our journals' impact – including Impact Factors, CiteScores, overall citation rates, aggregate views and downloads, press pick-ups and social media mentions.
We fully support the responsible use of journal Impact Factors, other quantitative research metrics, and innovative ways for researcher evaluation, as proposed by the San Francisco Declaration on Research Assessment (DORA, to which we are a signatory), the Leiden Manifesto, the Metric Tide for Responsible Metrics and the European Commission's Expert Group on Altmetrics.