Corrigendum: Cognitive Function Impairments Linked to Alcohol and Cannabis Use During Adolescence: A Study of Gender Differences
Département de Psychiatrie, Université de Montréal, Centre de Recherche du CHU Sainte-Justine, Montréal, QC, Canada
In the original article, part of Figure 1 was included in Figure 2 by mistake. The corrected Figure 2 appears below.
FIGURE 2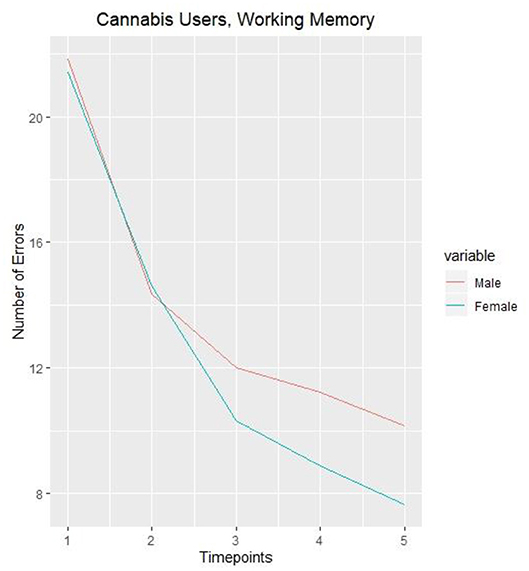 Figure 2. Number of errors on working memory task in male and female cannabis users (once a month and more) measured over 5 years.
The authors apologize for this error and state that this does not change the scientific conclusions of the article in any way. The original article has been updated.
Keywords: cognitive function, alcohol, cannabis, gender difference, adolescent
Citation: Noorbakhsh S, Afzali MH, Boers E and Conrod PJ (2020) Corrigendum: Cognitive Function Impairments Linked to Alcohol and Cannabis Use During Adolescence: A Study of Gender Differences. Front. Hum. Neurosci. 14:239. doi: 10.3389/fnhum.2020.00239
Received: 25 May 2020; Accepted: 29 May 2020;
Published: 15 July 2020.
Edited and reviewed by: Alexander Mario Baldacchino, University of St Andrews, United Kingdom
Copyright © 2020 Noorbakhsh, Afzali, Boers and Conrod. This is an open-access article distributed under the terms of the Creative Commons Attribution License (CC BY). The use, distribution or reproduction in other forums is permitted, provided the original author(s) and the copyright owner(s) are credited and that the original publication in this journal is cited, in accordance with accepted academic practice. No use, distribution or reproduction is permitted which does not comply with these terms.
*Correspondence: Patricia J. Conrod, patricia.conrod@umontreal.ca