Correction ARTICLE
Corrigendum: TRPV1 and TRPV1-Expressing Nociceptors Mediate Orofacial Pain Behaviors in a Mouse Model of Orthodontic Tooth Movement
1Program in Neuroscience, Center to Advance Chronic Pain Research, Department of Neural and Pain Sciences, School of Dentistry, University of Maryland, Baltimore, MD, United States
2Department of Orthodontic and Pediatric Dentistry, School of Dentistry, University of Maryland, Baltimore, MD, United States
A Corrigendum on
TRPV1 and TRPV1-Expressing Nociceptors Mediate Orofacial Pain Behaviors in a Mouse Model of Orthodontic Tooth Movement
by Wang, S., Kim, M., Ali, Z., Ong, K., Pae, E.-K., and Chung, M.-K. (2019). Front. Physiol. 10:1207. doi: 10.3389/fphys.2019.01207
In the original article, there was a mistake in Figure 6 as published. The X-axis of panel B was labeled incorrectly. The corrected Figure 6 appears below.
FIGURE 6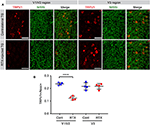 Figure 6. Efficacy of ablation of TRPV1-expressing nociceptors by intra-TG injection of RTX. (A) Immunohistochemical labeling of TRPV1 (red), Nissl staining (green), and merged images in ophthalmic/maxillary (V1/V2) area or mandibular (V3) area of TG from RTX-injected or uninjected contralateral side. (B) Proportion of TRPV1-expressing neurons among Nissl+ neurons. ****p < 0.0001 in Student's t-test. N = 4 ganglia in each group.
The authors apologize for this error and state that this does not change the scientific conclusions of the article in any way. The original article has been updated.
Keywords: orthodontic tooth movement, trigeminal ganglia, TRPV1, peptidergic nociceptors, periodontium, behavioral assays
Citation: Wang S, Kim M, Ali Z, Ong K, Pae E-K and Chung M-K (2019) Corrigendum: TRPV1 and TRPV1-Expressing Nociceptors Mediate Orofacial Pain Behaviors in a Mouse Model of Orthodontic Tooth Movement. Front. Physiol. 10:1353. doi: 10.3389/fphys.2019.01353
Received: 10 October 2019; Accepted: 11 October 2019;
Published: 22 October 2019.
Copyright © 2019 Wang, Kim, Ali, Ong, Pae and Chung. This is an open-access article distributed under the terms of the Creative Commons Attribution License (CC BY). The use, distribution or reproduction in other forums is permitted, provided the original author(s) and the copyright owner(s) are credited and that the original publication in this journal is cited, in accordance with accepted academic practice. No use, distribution or reproduction is permitted which does not comply with these terms.
*Correspondence: Man-Kyo Chung, mchung@umaryland.edu