CORRECTION article
Corrigendum: HAX-1 Protects Glioblastoma Cells From Apoptosis Through the Akt1 Pathway
1Department of Neurosurgery, The First Affiliated Hospital of Zhengzhou University, Zhengzhou, China
2Key Laboratory of Advanced Pharmaceutical Technology, Ministry of Education of China, Zhengzhou, China
3Co-innovation Center of Henan Province for New Drug R & D and Preclinical Safety, Zhengzhou, China
4School of Pharmaceutical Sciences, Zhengzhou University, Zhengzhou, China
5Department of Neuro-interventional Radiology, The First Affiliated Hospital of Zhengzhou University, Zhengzhou, China
In the original article, there was a mistake in Figure 1B U118 KO-1 and KO-2 as published. In Figure 1, the images for B U118 KO-1 and KO-2 were incorrectly provided. The corrected Figure 1B U118 KO-1 and KO-2 appears below.
FIGURE 1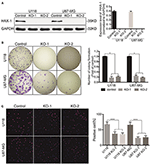 Figure 1. HAX-1 regulated cell proliferation of glioblastoma cells. (A) Western blot showed that HAX-1 was completely knocked out in U118 and U87-MG. GAPDH was used as a loading control. (B) Colony formation assays indicated that the efficiency of colony formation of U118 and U87-MG cells declined after HAX-1 was knocked out. (C) Edu proliferation assays showed decreased proliferative U118 and U87-MG cells. Edu was labeled with red fluorescence and nuclei were stained with blue fluorescence. (magnification: 100×) Three individual experiments were performed for each group. *P < 0.05, ****P < 0.0001.
The authors apologize for this error and state that this does not change the scientific conclusions of the article in any way. The original article has been updated.
Conflict of Interest Statement
The authors declare that the research was conducted in the absence of any commercial or financial relationships that could be construed as a potential conflict of interest.
Keywords: glioblastoma, HAX-1, Akt1, Hsp90, apoptosis
Citation: Deng X, Song L, Zhao W, Wei Y and Guo X (2019) Corrigendum: HAX-1 Protects Glioblastoma Cells From Apoptosis Through the Akt1 Pathway. Front. Cell. Neurosci. 13:13. doi: 10.3389/fncel.2019.00013
Received: 27 December 2018; Accepted: 14 January 2019;
Published: 31 January 2019.
Edited and reviewed by: José A. G. Agúndez, University of Extremadura, Spain
Copyright © 2019 Deng, Song, Zhao, Wei and Guo. This is an open-access article distributed under the terms of the Creative Commons Attribution License (CC BY). The use, distribution or reproduction in other forums is permitted, provided the original author(s) and the copyright owner(s) are credited and that the original publication in this journal is cited, in accordance with accepted academic practice. No use, distribution or reproduction is permitted which does not comply with these terms.
*Correspondence: Xin-bin Guo, gxb3906080@126.com; gxb3906080@sina.com