Corrigendum: Intestinal Morphologic and Microbiota Responses to Dietary Bacillus spp. in a Broiler Chicken Model
1College of Animal Science and Technology, Hunan Agricultural University, Changsha, China
2Key Laboratory of Feed Biotechnology of Ministry of Agriculture and Rural Affairs, Feed Research Institute, Chinese Academy of Agricultural Sciences, Beijing, China
3Department of Animal Science, Faculty of Agricultural and Food Sciences, University of Manitoba, Winnipeg, MB, Canada
A Corrigendum on
Intestinal Morphologic and Microbiota Responses to Dietary Bacillus spp. in a Broiler Chicken Model
by Li, C-l., Wang, J., Zhang, H-j., Wu, S-g., Hui, Q-r., Yang, C-b., et al. (2019). Front. Physiol. 9:1968. doi: 10.3389/fphys.2018.01968
In the original article, there was a mistake in Figure 1 as published. Due to poor image quality a new image was prepared during the production stage. Unfortunately, the incorrect image was uploaded and used in the published article. The corrected Figure 1 appears below.
FIGURE 1
Additionally, there was a mistake in Figure 6 as published. We have uploaded Figure 6A was uploaded during production of the article instead of Figure 6. Thus, Figure 6 should include both Figures 6A,B. The corrected Figure 6 appears below.
FIGURE 6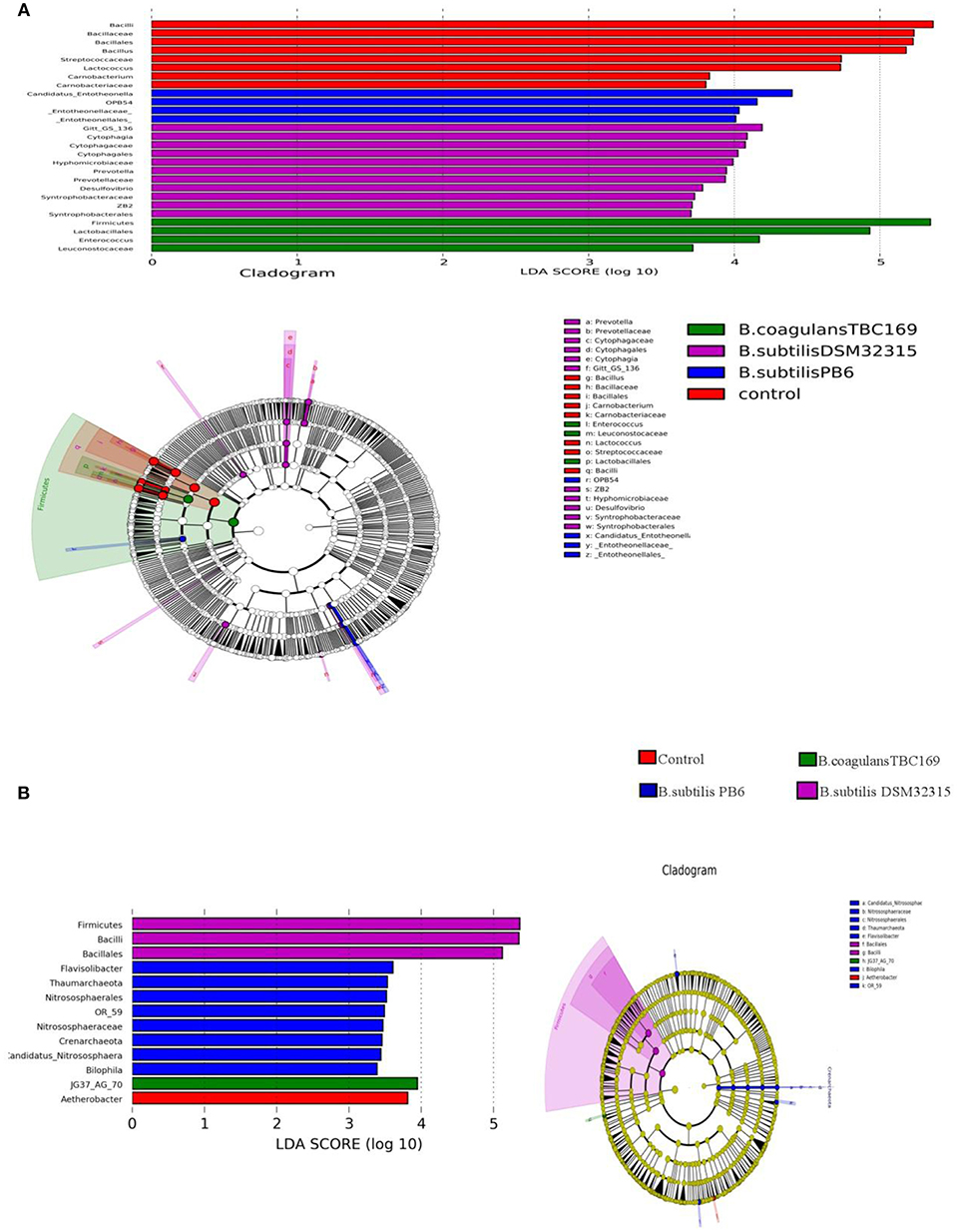 Figure 6. Significantly different taxa between different probiotic stains and control on day 21 (A) and day 42 (B).
The authors apologize for this error and state that they do not change the scientific conclusions of the article in any way. The original article has been updated.
Keywords: probiotics, growth performance, intestinal morphology, jejunum microbiota, broiler
Citation: Li C-l, Wang J, Zhang H-j, Wu S-g, Hui Q-r, Yang C-b, Fang R-j and Qi G-h (2019) Corrigendum: Intestinal Morphologic and Microbiota Responses to Dietary Bacillus spp. in a Broiler Chicken Model. Front. Physiol. 10:332. doi: 10.3389/fphys.2019.00332
Received: 08 March 2019; Accepted: 11 March 2019;
Published: 02 April 2019.
Copyright © 2019 Li, Wang, Zhang, Wu, Hui, Yang, Fang and Qi. This is an open-access article distributed under the terms of the Creative Commons Attribution License (CC BY). The use, distribution or reproduction in other forums is permitted, provided the original author(s) and the copyright owner(s) are credited and that the original publication in this journal is cited, in accordance with accepted academic practice. No use, distribution or reproduction is permitted which does not comply with these terms.
*Correspondence: Re-jun Fang, fangrj63@126.com
Guang-hai Qi, qiguanghai@caas.cn