Correction ARTICLE
Corrigendum: Severe Continental-Scale Impacts of Climate Change Are Happening Now: Extreme Climate Events Impact Marine Habitat Forming Communities Along 45% of Australia's Coast
1CSIRO Oceans and Atmosphere, Brisbane, QLD, Australia
2School of Earth and Geographical Sciences, The University of Western Australia, Crawley, WA, Australia
3CSIRO Oceans and Atmosphere, Hobart, TAS, Australia
4Centre for Applications in Natural Resource Mathematics, School of Mathematics and Physics, The University of Queensland, St. Lucia, QLD, Australia
5CSIRO Oceans and Atmosphere, Indian Ocean Marine Research Centre, Crawley, WA, Australia
A Corrigendum on
Severe Continental-Scale Impacts of Climate Change Are Happening Now: Extreme Climate Events Impact Marine Habitat Forming Communities Along 45% of Australia's Coast
by Babcock, R. C., Bustamante, R. H., Fulton, E. A., Fulton, D. J., Haywood, M. D. E., Hobday, A. J., et al. (2019). Front. Mar. Sci. 6:411. doi: 10.3389/fmars.2019.00411
In the original article, there was a mistake in Figure 2 as published. Monthly SST mean plots obtained from OceanCurrents (http://oceancurrent.imos.org.au/) contained an error at the time that we downloaded our data. This error has subsequently been corrected, and we were notified of the error by OceanCurrents after the publication of our article. The correct SST anomalies are lower than those suggested in the original Figure 2. The corrected Figure 2 appears below.
FIGURE 2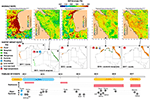 Figure 2. A schematic of the timeline of extreme events and habitat impacts. Sea surface temperature anomaly maps (°C increase above the monthly climatology over the period 1993–2014) associated with each extreme event are shown, as well as the indicative spatial footprint of the habitat impacts. The maps (A–E) indicate the habitat types affected and the kind of extreme event causing the impact (e.g., MHW, tropical cyclone, flood, etc.), and were created based on maps or geographic details provided in the literature cited in the main text. Thermal anomalies at the time of each ECE are depicted in the figures immediately above. A timeline of the specific types of extreme events are shown in the bottom part of the diagram—with only cyclones (gray circles) of category 2 or above shown (source www.bom.gov.au). W, N, and E indicate the region of Australia (West, North, East) affected.
Additionally, there was an error in affiliation Mathew A. Vanderklift. Instead of having both affiliation 3 and 5, Matthew A. Vanderklift should only have affiliation 5.
The authors apologize for these error and state that they do not change the scientific conclusions of the article in any way. The original article has been updated.
Keywords: extreme climate events, kelp, coral, seagrass, mangrove, marine heat wave, modeling, ecosystem
Citation: Babcock RC, Bustamante RH, Fulton EA, Fulton DJ, Haywood MDE, Hobday AJ, Kenyon R, Matear RJ, Plagányi EE, Richardson AJ and Vanderklift MA (2019) Corrigendum: Severe Continental-Scale Impacts of Climate Change Are Happening Now: Extreme Climate Events Impact Marine Habitat Forming Communities Along 45% of Australia's Coast. Front. Mar. Sci. 6:558. doi: 10.3389/fmars.2019.00558
Received: 13 August 2019; Accepted: 23 August 2019;
Published: 10 September 2019.
Edited and reviewed by: Ke Chen, Woods Hole Oceanographic Institution, United States
Copyright © 2019 Babcock, Bustamante, Fulton, Fulton, Haywood, Hobday, Kenyon, Matear, Plagányi, Richardson and Vanderklift. This is an open-access article distributed under the terms of the Creative Commons Attribution License (CC BY). The use, distribution or reproduction in other forums is permitted, provided the original author(s) and the copyright owner(s) are credited and that the original publication in this journal is cited, in accordance with accepted academic practice. No use, distribution or reproduction is permitted which does not comply with these terms.
*Correspondence: Russell C. Babcock, russ.babcock@csiro.au