Correction ARTICLE
Corrigendum: Quantifying Coral Reef Resilience to Climate Change and Human Development: An Evaluation of Multiple Empirical Frameworks
1Biodiversity Research Center, Academia Sinica, Taipei, Taiwan
2Department of Life Science, Tunghai University, Taichung, Taiwan
3Sprouts Nature Education, Taichung, Taiwan
4Institute of Marine Biology, National Taiwan Ocean University, Keelung, Taiwan
5Department of Life Science, National Taiwan Normal University, Taipei, Taiwan
A Corrigendum on
Quantifying Coral Reef Resilience to Climate Change and Human Development: An Evaluation of Multiple Empirical Frameworks
by Bang, A. H. Y., Kuo, C.-Y., Wen, C. K.-C., Cherh, K.-L., Ho, M.-J., Cheng, N.-Y., et al. (2021). Front. Mar. Sci. 7:610306. doi: 10.3389/fmars.2020.610306
In the original article, there was a mistake in Figure 2 and Figure 3 as published. The color bar in the map legend was shown in reverse – white should indicate low resilience/recovery whereas green should indicate high resilience/recovery. The corrected Figure 2 and Figure 3 appear below.
FIGURE 2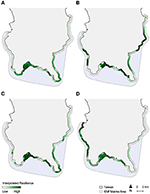 Figure 2. Spatial interpolation of relative resilience scores along a 500-m coastal buffer from each of the four assessments, including (A) Assessment 1; (B) Assessment 2; (C) Assessment 3, and (D) Assessment 4. Resilience score scales are relative for each map and colored on a quantile scale.
FIGURE 3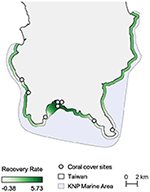 Figure 3. Spatial Interpolation of coral cover recovery rate (2010 vs. 2016) along a 500-m coastal buffer. The white points indicate the sites monitored by the Long-Term Ecological Research (LTER) project in Kenting National Park.
The authors apologize for this error and state that this does not change the scientific conclusions of the article in any way. The original article has been updated.
Keywords: coral reef conservation, ecological resilience, resilience assessment, marine protected areas, Taiwan
Citation: Bang AHY, Kuo C-Y, Wen CK-C, Cherh K-L, Ho M-J, Cheng N-Y, Chen Y-C and Chen CA (2021) Corrigendum: Quantifying Coral Reef Resilience to Climate Change and Human Development: An Evaluation of Multiple Empirical Frameworks. Front. Mar. Sci. 8:653404. doi: 10.3389/fmars.2021.653404
Received: 14 January 2021; Accepted: 20 January 2021;
Published: 10 February 2021.
Edited and reviewed by: Nina Yasuda, University of Miyazaki, Japan
Copyright © 2021 Bang, Kuo, Wen, Cherh, Ho, Cheng, Chen and Chen. This is an open-access article distributed under the terms of the Creative Commons Attribution License (CC BY). The use, distribution or reproduction in other forums is permitted, provided the original author(s) and the copyright owner(s) are credited and that the original publication in this journal is cited, in accordance with accepted academic practice. No use, distribution or reproduction is permitted which does not comply with these terms.
*Correspondence: Chaolun Allen Chen, cac@gate.sinica.edu.tw
†These authors have contributed equally to this work