CORRECTION article
Corrigendum: Immobilization of Growth Factors for Cell Therapy Manufacturing
Tecnologico de Monterrey, School of Engineering and Science, FEMSA Biotechnology Center, Monterrey, Mexico
In the original article, there was a mistake in Figures 1, 2 as published. The order of the figures was reversed while the legends of these figures were correct.
FIGURE 1
FIGURE 2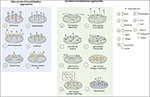 Figure 2. Overview of current chemical immobilization strategies. In covalent methods, acrylate crosslinking is representative of the conjugation of an acryloyl GF and PEG-diacrylate matrix. While, mussel-based immobilization shows the interaction between the GF and polydopamine coated on the surface.
The corrected Figures 1, 2 appear below.
The authors apologize for this error and state that this does not change the scientific conclusions of the article in any way. The original article has been updated.
Keywords: cell therapy, growth factor, immobilization, stem cell factor, cost-of-goods, cell product manufacturing
Citation: Enriquez-Ochoa D, Robles-Ovalle P, Mayolo-Deloisa K and Brunck MEG (2020) Corrigendum: Immobilization of Growth Factors for Cell Therapy Manufacturing. Front. Bioeng. Biotechnol. 8:821. doi: 10.3389/fbioe.2020.00821
Received: 24 June 2020; Accepted: 26 June 2020;
Published: 31 July 2020.
Copyright © 2020 Enriquez-Ochoa, Robles-Ovalle, Mayolo-Deloisa and Brunck. This is an open-access article distributed under the terms of the Creative Commons Attribution License (CC BY). The use, distribution or reproduction in other forums is permitted, provided the original author(s) and the copyright owner(s) are credited and that the original publication in this journal is cited, in accordance with accepted academic practice. No use, distribution or reproduction is permitted which does not comply with these terms.
*Correspondence: Karla Mayolo-Deloisa, kmayolo@tec.mx; Marion E. G. Brunck, marion.brunck@tec.mx