Correction ARTICLE
Corrigendum: Sleep Disorders in Leucine-Rich Glioma-Inactivated Protein 1 and Contactin Protein-Like 2 Antibody-Associated Diseases
Department of Neurology, Peking Union Medical College Hospital, Beijing, China
A Corrigendum on
Sleep Disorders in Leucine-Rich Glioma-Inactivated Protein 1 and Contactin Protein-Like 2 Antibody-Associated Diseases
by Lin, N., Hao, H., Guan, H., Sun, H., Liu, Q., Lu, Q., et al. (2020). Front. Neurol. 11:696. doi: 10.3389/fneur.2020.00696
In the original article, there was a mistake in Figure 1 as published. The sleep histogram in part 1C was mistakenly copied from the sleep histogram 1B. The corrected Figure 1 appears below.
FIGURE 1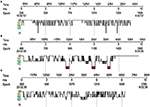 Figure 1. Sleep histogram. (A) Sleep histogram in a patient with LGI1-antibody encephalitis revealed severe impaired sleep structure, short REM sleep episodes mixed with NREM sleep, and no N3 sleep. (B) Follow-up PSG showed identified sleep architecture and stable REM sleep. (C) Sleep histogram in a Morvan's syndrome patient showed absence of REM sleep and frequent shifts between wake and NREM sleep. LGI1, leucine-rich glioma-inactivated protein 1; REM, rapid eye movement; NREM, non-rapid eye movement; PSG, polysomnography.
The authors apologize for this error and state that this does not change the scientific conclusions of the article in any way. The original article has been updated.
Keywords: sleep disorders, polysomnography, states dissociate, LGI1 antibody encephalitis, Caspr2 antibody-associated diseases
Citation: Lin N, Hao H, Guan H, Sun H, Liu Q, Lu Q, Jin L, Ren H and Huang Y (2020) Corrigendum: Sleep Disorders in Leucine-Rich Glioma-Inactivated Protein 1 and Contactin Protein-Like 2 Antibody-Associated Diseases. Front. Neurol. 11:607331. doi: 10.3389/fneur.2020.607331
Received: 16 September 2020; Accepted: 18 September 2020;
Published: 30 October 2020.
Copyright © 2020 Lin, Hao, Guan, Sun, Liu, Lu, Jin, Ren and Huang. This is an open-access article distributed under the terms of the Creative Commons Attribution License (CC BY). The use, distribution or reproduction in other forums is permitted, provided the original author(s) and the copyright owner(s) are credited and that the original publication in this journal is cited, in accordance with accepted academic practice. No use, distribution or reproduction is permitted which does not comply with these terms.
*Correspondence: Yan Huang, pumchy@163.com