Correction ARTICLE
Corrigendum: Long Non-Coding RNA HOXA Transcript Antisense RNA Myeloid-Specific 1–HOXA1 Axis Downregulates the Immunosuppressive Activity of Myeloid-Derived Suppressor Cells in Lung Cancer
1Department of Laboratory Medicine, The Affiliated People's Hospital, Jiangsu University, Zhenjiang, China
2Department of Immunology, Jiangsu Key Laboratory of Laboratory Medicine, School of Medicine, Jiangsu University, Zhenjiang, China
3Department of Laboratory Medicine, Jiangsu Cancer Hospital, Nanjing, China
A Corrigendum on
Long Non-Coding RNA HOXA Transcript Antisense RNA Myeloid-Specific 1–HOXA1 Axis Downregulates the Immunosuppressive Activity of Myeloid-Derived Suppressor Cells in Lung Cancer
by Tian, X., Ma, J., Wang, T., Tian, J., Zhang, Y., Mao, L., et al. (2018). Front. Immunol. 9:473. doi: 10.3389/fimmu.2018.00473
In the original article, there was a mistake in Table 1 as published. The p-values in the table were miscalculated. The corrected Table 1 appears below.
TABLE 1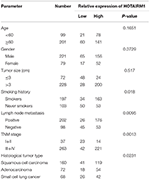 Table 1. Correlation between HOTAIRM1 expression and clinicopathological parameters of lung cancer patients (n = 300).
The authors apologize for this error and state that this does not change the scientific conclusions of the article in any way. The original article has been updated.
Keywords: long non-coding RNA, HOXA transcript antisense RNA myeloid-specific 1, HOXA1, myeloid-derived suppressor cells, lung cancer
Citation: Tian X, Ma J, Wang T, Tian J, Zhang Y, Mao L, Xu H and Wang S (2020) Corrigendum: Long Non-Coding RNA HOXA Transcript Antisense RNA Myeloid-Specific 1–HOXA1 Axis Downregulates the Immunosuppressive Activity of Myeloid-Derived Suppressor Cells in Lung Cancer. Front. Immunol. 10:2929. doi: 10.3389/fimmu.2019.02929
Received: 19 November 2019; Accepted: 28 November 2019;
Published: 21 January 2020.
Edited and reviewed by: Peter Brossart, University of Bonn, Germany
Copyright © 2020 Tian, Ma, Wang, Tian, Zhang, Mao, Xu and Wang. This is an open-access article distributed under the terms of the Creative Commons Attribution License (CC BY). The use, distribution or reproduction in other forums is permitted, provided the original author(s) and the copyright owner(s) are credited and that the original publication in this journal is cited, in accordance with accepted academic practice. No use, distribution or reproduction is permitted which does not comply with these terms.
*Correspondence: Lingxiang Mao, maolingxiang@aliyun.com; Shengjun Wang, sjwjs@ujs.edu.cn