CORRECTION article
Corrigendum: Coagulation Factor X Regulated by CASC2c Recruited Macrophages and Induced M2 Polarization in Glioblastoma Multiforme
1Hunan Provincial Tumor Hospital and the Affiliated Tumor Hospital of Xiangya Medical School, Central South University, Changsha, China
2The Key Laboratory of Carcinogenesis of the Chinese Ministry of Health, The Key Laboratory of Carcinogenesis and Cancer Invasion of the Chinese Ministry of Education, Cancer Research Institute, Central South University, Changsha, China
3The Second Xiangya Hospital, Central South University, Changsha, China
4The Third Xiangya Hospital, Central South University, Changsha, China
5The Xiangya Hospital, Central South University, Changsha, China
A Corrigendum on
Coagulation Factor X Regulated by CASC2c Recruited Macrophages and Induced M2 Polarization in Glioblastoma Multiforme
by Zhang, Y., Feng, J., Fu, H., Liu, C., Yu, Z., Sun, Y., et al. (2018). Front. Immunol. 9:1557. doi: 10.3389/fimmu.2018.01557
In Figure 4G the authors mistakenly used the wrong image. The fully corrected Figure 4 appears below.
FIGURE 4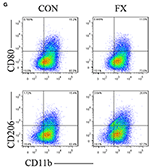 Figure 4. (G) The proportion of M1 macrophages decreased and M2 macrophages increased when THP-1 cells were treated with U251-FX cell supernatants compared with U251-CON.
The authors apologize for this error and state that this does not change the scientific conclusions of the article in any way. The original article has been updated.
Keywords: tumor-associated macrophages, polarization, glioblastoma multiforme, extracellular signal-related kinase 1/2, AKT
Citation: Zhang Y, Feng J, Fu H, Liu C, Yu Z, Sun Y, She X, Li P, Zhao C, Liu Y, Liu T, Liu Q, Liu Q, Li G and Wu M (2020) Corrigendum: Coagulation Factor X Regulated by CASC2c Recruited Macrophages and Induced M2 Polarization in Glioblastoma Multiforme. Front. Immunol. 11:934. doi: 10.3389/fimmu.2020.00934
Received: 16 March 2020; Accepted: 22 April 2020;
Published: 29 May 2020.
Edited and reviewed by: Catherine Sautes-Fridman, INSERM U1138 Centre de Recherche des Cordeliers, France
Copyright © 2020 Zhang, Feng, Fu, Liu, Yu, Sun, She, Li, Zhao, Liu, Liu, Liu, Liu, Li and Wu. This is an open-access article distributed under the terms of the Creative Commons Attribution License (CC BY). The use, distribution or reproduction in other forums is permitted, provided the original author(s) and the copyright owner(s) are credited and that the original publication in this journal is cited, in accordance with accepted academic practice. No use, distribution or reproduction is permitted which does not comply with these terms.
*Correspondence: Minghua Wu, wuminghua554@aliyun.com