CORRECTION article
Corrigendum: Isolation and Taxonomic Characterization of Novel Haloarchaeal Isolates From Indian Solar Saltern: A Brief Review on Distribution of Bacteriorhodopsins and V-Type ATPases in Haloarchaea
1Structural Biology Laboratory, G. N. Ramachandran Protein Centre, Council of Scientific and Industrial Research-Institute of Microbial Technology (CSIR-IMTECH), Chandigarh, India
2MTCC-Microbial Type Culture Collection & Gene Bank, Council of Scientific and Industrial Research Institute of Microbial Technology (CSIR-IMTECH), Chandigarh, India
3Department of Microbiology, School of Life Sciences, Pondicherry University, Puducherry, India
4Biochemical Engineering Research and Process Development Centre, Council of Scientific and Industrial Research-Institute of Microbial Technology (CSIR-IMTECH), Chandigarh, India
A Corrigendum on
Isolation and Taxonomic Characterization of Novel Haloarchaeal Isolates From Indian Solar Saltern: A Brief Review on Distribution of Bacteriorhodopsins and V-Type ATPases in Haloarchaea
by Verma, D. K., Chaudhary, C., Singh, L., Sidhu, C., Siddhardha, B., Prasad, S. E., et al. (2020). Front. Microbiol. 11:554927. doi: 10.3389/fmicb.2020.554927
In the original article, there was an inadvertent mistake in the preparation of Figure 1. While preparing the figure, the transmission electron microscopy (TEM) micrograph panel for pws12 was inadvertently selected from the panel of TEM micrographs collected for pws4. The corrected Figure 1 appears below.
FIGURE 1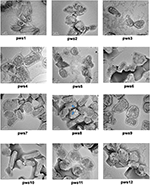 Figure 1. Transmission electron microscopy images of pws isolates. TEM images reveal polymorphic morphology in the haloarchaeal isolates. Blue arrows indicate the presence of gas vacuoles.
The authors apologize for this error and state that this does not change the scientific conclusions of the article in any way. The original article has been updated.
Keywords: haloarchaea, bacteriorhodopsin, pangenome, carotenoids, taxonomy
Citation: Verma DK, Chaudhary C, Singh L, Sidhu C, Siddhardha B, Prasad SE and Thakur KG (2021) Corrigendum: Isolation and Taxonomic Characterization of Novel Haloarchaeal Isolates From Indian Solar Saltern: A Brief Review on Distribution of Bacteriorhodopsins and V-Type ATPases in Haloarchaea. Front. Microbiol. 12:713942. doi: 10.3389/fmicb.2021.713942
Received: 24 May 2021; Accepted: 07 June 2021;
Published: 28 June 2021.
Edited and reviewed by: Chuanlun Zhang, Southern University of Science and Technology, China
Copyright © 2021 Verma, Chaudhary, Singh, Sidhu, Siddhardha, Prasad and Thakur. This is an open-access article distributed under the terms of the Creative Commons Attribution License (CC BY). The use, distribution or reproduction in other forums is permitted, provided the original author(s) and the copyright owner(s) are credited and that the original publication in this journal is cited, in accordance with accepted academic practice. No use, distribution or reproduction is permitted which does not comply with these terms.
*Correspondence: Krishan Gopal Thakur, krishang@imtech.res.in; Senthil E. Prasad, esprasad@imtech.res.in