Correction ARTICLE
Corrigendum: PAM50 Subtypes in Baseline and Residual Tumors Following Neoadjuvant Trastuzumab-Based Chemotherapy in HER2-Positive Breast Cancer: A Consecutive-Series From a Single Institution
1Department of Medical Oncology-Breast Cancer Unit, Institut Català d'Oncologia (ICO)-H.U.Bellvitge-Institut d'Investigació Biomèdica de Bellvitge (IDIBELL), Universitat de Barcelona, Barcelona, Spain
2Department of Pathology-Breast Cancer Unit, Institut Català d'Oncologia (ICO)-H.U.Bellvitge-Institut d'Investigació Biomèdica de Bellvitge (IDIBELL), Universitat de Barcelona, Barcelona, Spain
3Department of Medical Oncology, Hospital Clínic de Barcelona, Universitat de Barcelona, Barcelona, Spain
4Clinical Research Unit, Institut Català d'Oncologia (ICO)-L'Hospitalet, Barcelona, Spain
5Department of Pharmacy, Institut Català d'Oncologia (ICO)-L'Hospitalet, Barcelona, Spain
6Department of Gynecology-Breast Cancer Unit, Institut Català d'Oncologia (ICO)-H.U.Bellvitge-Institut d'Investigació Biomèdica de Bellvitge (IDIBELL), Universitat de Barcelona, Barcelona, Spain
A Corrigendum on
PAM50 Subtypes in Baseline and Residual Tumors Following Neoadjuvant Trastuzumab-Based Chemotherapy in HER2-Positive Breast Cancer: A Consecutive-Series From a Single Institution
by Pernas, S., Petit, A., Climent, F., Paré, L., Perez-Martin, J., Ventura, L., et al. (2019). Front. Oncol. 9:707. doi: 10.3389/fonc.2019.00707
In the original article, there was a mistake in Figure 1 as published. The colors of the labels used for Figures 1B,D were incorrect. pCR should be in red and non-pCR should be in blue. The corrected Figure 1 appears below.
FIGURE 1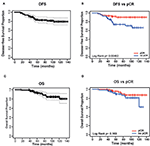 Figure 1. Disease Free Survival of the entire cohort (A) and based on pathological complete response (pCR) (B). Overall Survival (OS) of the entire cohort (C) and based on pCR (D).
The authors apologize for this error and state that this does not change the scientific conclusions of the article in any way. The original article has been updated.
Keywords: breast cancer, HER2, pathological complete response, gene expression, molecular intrinsic subtype, residual disease, paired samples
Citation: Pernas S, Petit A, Climent F, Paré L, Perez-Martin J, Ventura L, Bergamino M, Galván P, Falo C, Morilla I, Fernandez-Ortega A, Stradella A, Rey M, Garcia-Tejedor A, Gil-Gil M and Prat A (2019) Corrigendum: PAM50 Subtypes in Baseline and Residual Tumors Following Neoadjuvant Trastuzumab-Based Chemotherapy in HER2-Positive Breast Cancer: A Consecutive-Series From a Single Institution. Front. Oncol. 9:967. doi: 10.3389/fonc.2019.00967
Received: 21 August 2019; Accepted: 11 September 2019;
Published: 25 September 2019.
Edited and reviewed by: Michael Gnant, Medical University of Vienna, Austria
Copyright © 2019 Pernas, Petit, Climent, Paré, Perez-Martin, Ventura, Bergamino, Galván, Falo, Morilla, Fernandez-Ortega, Stradella, Rey, Garcia-Tejedor, Gil-Gil and Prat. This is an open-access article distributed under the terms of the Creative Commons Attribution License (CC BY). The use, distribution or reproduction in other forums is permitted, provided the original author(s) and the copyright owner(s) are credited and that the original publication in this journal is cited, in accordance with accepted academic practice. No use, distribution or reproduction is permitted which does not comply with these terms.
*Correspondence: Sonia Pernas, spernas@iconcologia.net; Aleix Prat, alprat@clinic.cat