Corrigendum: Dysregulation of miR-375/AEG-1 Axis by Human Papillomavirus 16/18-E6/E7 Promotes Cellular Proliferation, Migration, and Invasion in Cervical Cancer
1Molecular Oncology Laboratory, Department of Biochemistry, School of Life Sciences, Bharathidasan University, Tiruchirappalli, India
2Department of Molecular Medicine and Biopharmaceutical Sciences, Graduate School of Convergence Science and Technology, Seoul National University, Seoul, South Korea
3Laboratory of Molecular Pathology and Cancer Genomics, College of Pharmacy, Seoul National University, Seoul, South Korea
4Enhancedbio Inc., Seongdong-gu, South Korea
In the original article, there was a mistake in Figure 3 as published. While image processing, we have grouped few pictures inadvertently in Figure 3. The corrected Figure 3 appears below.
The authors apologize for this error and state that this does not change the scientific conclusions of the article in any way. The original article has been updated.
FIGURE 3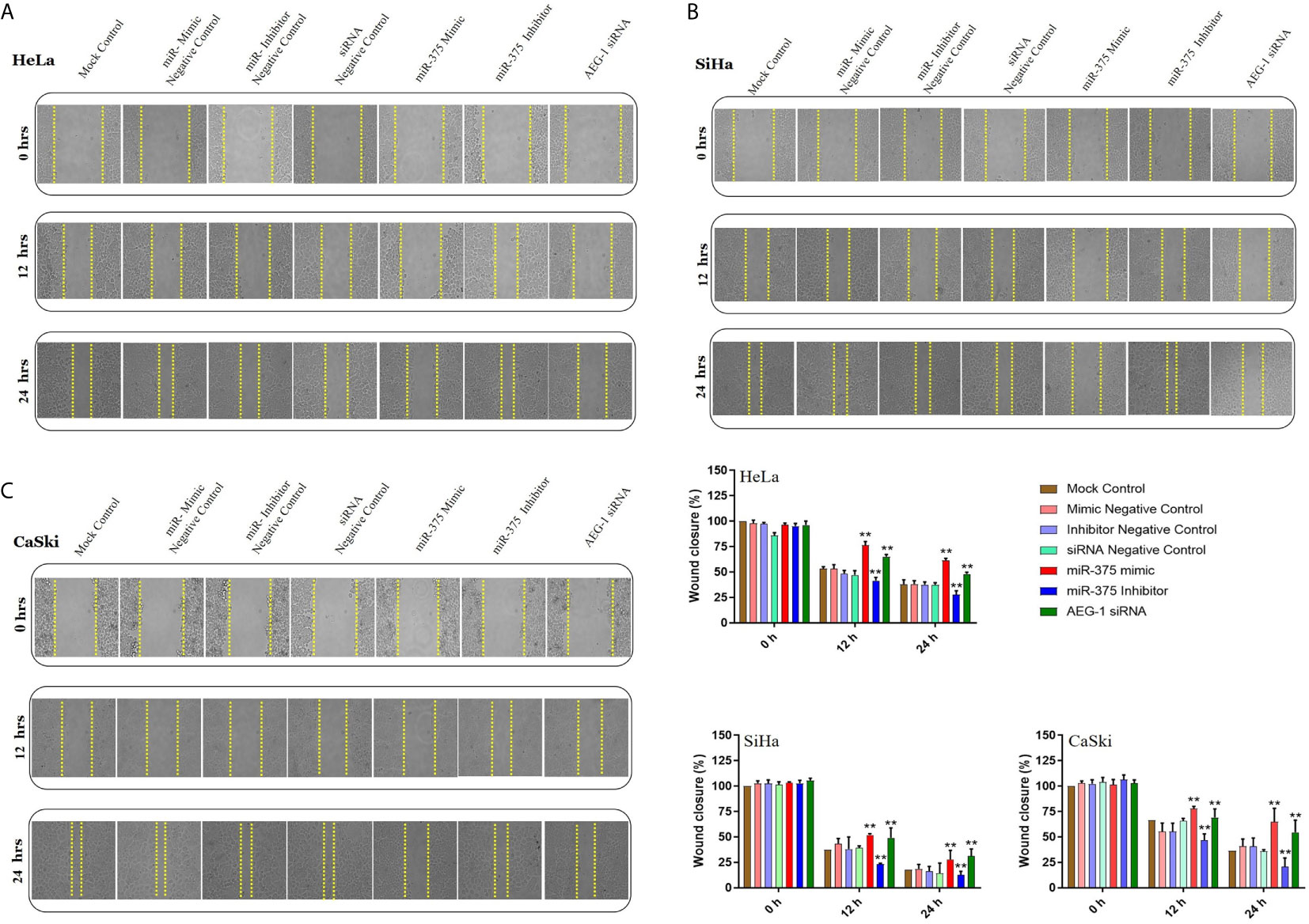 Figure 3 Ectopic expression of miR-375 inhibits cervical cancer cell migration. in vitro scratch assay with HeLa (A), SiHa (B) and CaSki (C) cell lines at 0, 12, and 24 h post-transfection with miR-375 mimic, miR-375 Inhibitor, AEG-1 siRNA and their controls. Gap distance of celss was quantified by using Image J. The scale bars represent 100 mm. Error bars represent mean ± s.d. and P-values are represented as **P < 0.05 compared to the corresponding controls at a different time interval.
Keywords: human papillomavirus, miR-375, astrocyte elevated gene-1, cervical cancer, cell proliferation
Citation: Jayamohan S, Kannan M, Moorthy RK, Rajasekaran N, Jung HS, Shin YK and Arockiam AJV (2021) Corrigendum: Dysregulation of miR-375/AEG-1 Axis by Human Papillomavirus 16/18-E6/E7 Promotes Cellular Proliferation, Migration, and Invasion in Cervical Cancer. Front. Oncol. 11:694442. doi: 10.3389/fonc.2021.694442
Received: 13 April 2021; Accepted: 22 April 2021;
Published: 12 May 2021.
Copyright © 2021 Jayamohan, Kannan, Moorthy, Rajasekaran, Jung, Shin and Arockiam. This is an open-access article distributed under the terms of the Creative Commons Attribution License (CC BY). The use, distribution or reproduction in other forums is permitted, provided the original author(s) and the copyright owner(s) are credited and that the original publication in this journal is cited, in accordance with accepted academic practice. No use, distribution or reproduction is permitted which does not comply with these terms.
*Correspondence: Antony Joseph Velanganni Arockiam, ajvelanganni@gmail.com; velanganni@bdu.ac.in