CORRECTION article
Corrigendum: High Sensitivity of SIRT3 Deficient Hearts to Ischemia-Reperfusion Is Associated with Mitochondrial Abnormalities
Department of Physiology, University of Puerto Rico School of Medicine, San Juan, PR, United States
In the original article, due to random loading of the groups and their vertical arrangement, we presented individual lanes from the same gel arranged as a representative image in Figure S3D of the Supplementary Material (in contrast to Figure 5D, where the arrangement was horizontal and the samples are arranged according to the groups). Since this explanation was not given in Figure legends, an original section of the gel as a correct representative image for Figure S3D is shown below. The authors apologize for this error and state that this does not change the scientific conclusions of the article in any way.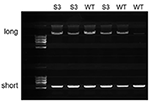 Conflict of Interest Statement
The authors declare that the research was conducted in the absence of any commercial or financial relationships that could be construed as a potential conflict of interest.
Keywords: SIRT3, heart, ischemia-reperfusion, mitochondria, protein acetylation, sanglifehrin A
Citation: Parodi-Rullán RM, Chapa-Dubocq X, Rullán PJ, Jang S and Javadov S (2017) Corrigendum: High Sensitivity of SIRT3 Deficient Hearts to Ischemia-Reperfusion Is Associated with Mitochondrial Abnormalities. Front. Pharmacol. 8:439. doi: 10.3389/fphar.2017.00439
Received: 09 June 2017; Accepted: 19 June 2017;
Published: 28 June 2017.
Edited and reviewed by: Aida Salameh, Leipzig University, Germany
Copyright © 2017 Parodi-Rullán, Chapa-Dubocq, Rullán, Jang and Javadov. This is an open-access article distributed under the terms of the Creative Commons Attribution License (CC BY). The use, distribution or reproduction in other forums is permitted, provided the original author(s) or licensor are credited and that the original publication in this journal is cited, in accordance with accepted academic practice. No use, distribution or reproduction is permitted which does not comply with these terms.
*Correspondence: Sabzali Javadov, sabzali.javadov@upr.edu