CORRECTION article
Corrigendum: Berberine Improves Benign Prostatic Hyperplasia via Suppression of 5 Alpha Reductase and Extracellular Signal-Regulated Kinase in Vivo and in Vitro
1Department of Pharmacology and Basic Research Laboratory for Comorbidity Regulation, College of Korean Medicine, Kyung Hee University, Seoul, South Korea
2Department of Science in Korean Medicine, Graduate School, Kyung Hee University, Seoul, South Korea
A Corrigendum on
Berberine Improves Benign Prostatic Hyperplasia via Suppression of 5 Alpha Reductase and Extracellular Signal-Regulated Kinase in Vivo and in Vitro
by Youn, D.-H, Park, J., Kim, H.-L., Jung, Y., Kang, J., Lim, S., et al. (2018) Front. Pharmacol. 9:773. doi: 10.3389/fphar.2018.00773
In the original article, there was a mistake in the legend for Figure 1 as published. The magnifications of Figure 1A were stated as ×100 and ×400, when they were actually ×200 and ×400. The correct legend appears below.
FIGURE 1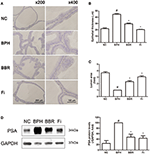 Figure 1. Effect of BBR on histological changes and protein expression of PSA in prostate tissues of TP-induced BPH rats. (A) Representative photomicrographs of H&E stained prostate tissues (left panels, magnification ×200; right panels, magnification ×400) are shown. (B) The epithelial thickness and (C) the relative lumen area of the prostate tissues were measured using Image J software. Values are mean ± S.D. of ten or more separate measurements. (D) The protein expression of PSA was analyzed by a western blot analysis. Values are mean ± S.D. of three or more separate measurements. #P < 0.05 when compared to NC; *P < 0.05 when compared to BPH. The protein expression differences are normalized to GAPDH. NC, normal control group; BPH, TP-induced BPH group; BBR, BBR-treated BPH group; Fi, finasteride-treated BPH group.
In the original article, there was a mistake in Figure 1 as published. The wrong photomicrographs of prostate tissues were presented by mistake. The corrected Figure 1 appears below. The authors apologize for this error and state that this does not change the scientific conclusions of the article in any way. The original article has been updated.
Keywords: berberine, benign prostatic hyperplasia, 5 alpha reductase, androgen receptor, mitogen-activated protein kinase, extracellular signal-regulated kinase
Citation: Youn D-H, Park J, Kim H-L, Jung Y, Kang J, Lim S, Song G, Kwak HJ and Um J-Y (2019) Corrigendum: Berberine Improves Benign Prostatic Hyperplasia via Suppression of 5 Alpha Reductase and Extracellular Signal-Regulated Kinase in Vivo and in Vitro. Front. Pharmacol. 10:541. doi: 10.3389/fphar.2019.00541
Received: 28 March 2019; Accepted: 30 April 2019;
Published: 22 May 2019.
Edited and reviewed by: Salvatore Salomone, Università degli Studi di Catania, Italy
Copyright © 2019 Youn, Park, Kim, Jung, Kang, Lim, Song, Kwak and Um. This is an open-access article distributed under the terms of the Creative Commons Attribution License (CC BY). The use, distribution or reproduction in other forums is permitted, provided the original author(s) and the copyright owner(s) are credited and that the original publication in this journal is cited, in accordance with accepted academic practice. No use, distribution or reproduction is permitted which does not comply with these terms.
*Correspondence: Jae-Young Um, jyum@khu.ac.kr