Correction ARTICLE
Corrigendum: Progression and Regression of Hepatic Lesions in a Mouse Model of NASH Induced by Dietary Intervention and Its Implications in Pharmacotherapy
1Lilly China R&D Center, Shanghai, China
2Covance Inc., Indianapolis, IN, United States
3Lilly Research Laboratories, Eli Lilly and Co., Indianapolis, IN, United States
In the original article, there was a mistake in Figure 3D as published. Figure 3D should represent a liver section from mice fed on a western diet for 60 days; however, a liver section from mice fed on chow diet was mistakenly used. The corrected Figure 3 appears below.
FIGURE 3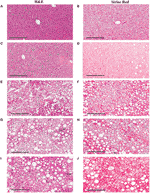 Figure 3 Hepatic lesions of the NASH Mice at Different Age. The representative images were taken from the liver sections of the mice fed either rodent chow (A, B) or Western diet for 60 (C, D), 150 (E, F) and 245 (G, H), and 352 (I, J) days respectively. (A, C, E, G, I) are the images of the liver sections stained with H&E; Panels (B, D, F, H, J) are the images of the liver sections stained with Sirius Red.
The authors apologize for this error and state that this does not change the scientific conclusions of the article in any way. The original article has been updated.
Keywords: non-alcoholic steatohepatitis, steatosis, inflammation, fibrosis, obeticholic acid, CCR2/5, pathogenesis
Citation: Ding Z-M, Xiao Y, Wu X, Zou H, Yang S, Shen Y, Xu J, Workman HC, Usborne AL and Hua H (2020) Corrigendum: Progression and Regression of Hepatic Lesions in a Mouse Model of NASH Induced by Dietary Intervention and Its Implications in Pharmacotherapy. Front. Pharmacol. 11:93. doi: 10.3389/fphar.2020.00093
Received: 11 January 2020; Accepted: 27 January 2020;
Published: 19 February 2020.
Copyright © 2020 Ding, Xiao, Wu, Zou, Yang, Shen, Xu, Workman, Usborne and Hua. This is an open-access article distributed under the terms of the Creative Commons Attribution License (CC BY). The use, distribution or reproduction in other forums is permitted, provided the original author(s) and the copyright owner(s) are credited and that the original publication in this journal is cited, in accordance with accepted academic practice. No use, distribution or reproduction is permitted which does not comply with these terms.
*Correspondence: Haiqing Hua, haiqing.hua@outlook.com