ERRATUM article
Erratum: Discovery and Preclinical Development of Orally Active Small Molecules That Exhibit Highly Selective Follicle Stimulating Hormone Receptor Agonism
Frontiers Media SA, Lausanne, Switzerland
An erratum on
Discovery and Preclinical Development of Orally Active Small Molecules That Exhibit Highly Selective Follicle Stimulating Hormone Receptor Agonism
by Nataraja S., Yu H., Guner J. and Palmer S. (2021). Front. Pharmacol. 11:602593. doi:10.3389/fphar.2020.602593
Due to a production error, Supplementary Figures S1, S2 were missing, and Supplementary Figure S3 was used in the article instead of Figure 3. Furthermore, the in-text citation for the tables were incorrect. The in-text citations were updated, the corrected Figure 3 appears below, and the supplementary file has been updated.
FIGURE 3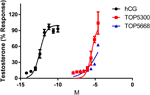 FIGURE 3. Dose response of hCG, TOP5300 and TOP5668 in rat Leydig cells. Compounds were incubated for 3 h in Leydig cells and testosterone in supernatant measured. Data mean + SD n = 3 (for TOP5668, n = 1), Triplicate determination in each experiment.
The publisher apologizes for this mistake. The original version of this article has been updated.
Supplementary Material
The Supplementary Material for this article can be found online at: https://www.frontiersin.org/articles/10.3389/fphar.2020.602593/full#supplementary-material.
Keywords: follicle stimulating hormone, oral FSHR allosteric agonist, g-protein coupled receptor, infertility treatment, follicular maturation, oocyte viability
Citation: Frontiers Production Office (2021) Erratum: Discovery and Preclinical Development of Orally Active Small Molecules That Exhibit Highly Selective Follicle Stimulating Hormone Receptor Agonism. Front. Pharmacol. 12:672778. doi: 10.3389/fphar.2020.602593
Received: 26 February 2021; Accepted: 26 February 2021;
Published: 31 March 2021.
Copyright © 2021 Frontiers Production Office. This is an open-access article distributed under the terms of the Creative Commons Attribution License (CC BY). The use, distribution or reproduction in other forums is permitted, provided the original author(s) and the copyright owner(s) are credited and that the original publication in this journal is cited, in accordance with accepted academic practice. No use, distribution or reproduction is permitted which does not comply with these terms.
*Correspondence: Frontiers Production Office, production.office@frontiersin.org