CORRECTION article
Corrigendum: The Role of Solvent Polarity on Low-Temperature Methanol Synthesis Catalyzed by Cu Nanoparticles
1Department of Process, Energy and Environmental Technology, University College of Southeast Norway, Porsgrunn, Norway
2Department of Chemistry, University of Oslo, Oslo, Norway
In the original article, there was an interchange of the dataset in the graphs of Figures 4, 10 as published. The correct graph for the dataset appears below. The authors apologize for this error and state that this does not change the scientific conclusions of the article in any way.
FIGURE 4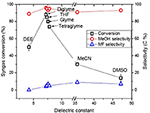 Figure 4. Syngas conversion and selectivity versus dielectric constant of solvent in the "once through" Cu nanoparticles catalyzed reaction.
FIGURE 10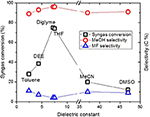 Figure 10. Syngas conversion and selectivity versus dielectric constant of solvent in the CuO/SiO2 catalyzed reaction.
The original article has been updated.
Conflict of Interest Statement
The authors declare that the research was conducted in the absence of any commercial or financial relationships that could be construed as a potential conflict of interest.
Keywords: methanol synthesis, low temperature, solvent polarity, "once through" reaction, Cu, nanoparticle size, syngas conversion
Citation: Ahoba-Sam C, Olsbye U and Jens K-J (2018) Corrigendum: The Role of Solvent Polarity on Low-Temperature Methanol Synthesis Catalyzed by Cu Nanoparticles. Front. Energy Res. 6:24. doi: 10.3389/fenrg.2018.00024
Received: 22 January 2018; Accepted: 20 March 2018;
Published: 09 April 2018.
Edited and reviewed by: Peter Styring, University of Sheffield, United Kingdom
Copyright © 2018 Ahoba-Sam, Olsbye and Jens. This is an open-access article distributed under the terms of the Creative Commons Attribution License (CC BY). The use, distribution or reproduction in other forums is permitted, provided the original author(s) and the copyright owner are credited and that the original publication in this journal is cited, in accordance with accepted academic practice. No use, distribution or reproduction is permitted which does not comply with these terms.
*Correspondence: Klaus-Joachim Jens, klaus.j.jens@usn.no