CORRECTION article
Corrigendum: Inter- and Intra-specific variation in egg size among reef fishes across the Isthmus of Panama
Smithsonian Tropical Research Institute, Balboa, Panama
In the original article, there was a mistake in Supplementary Table 1 as published. The unit for Egg Dry Weight in Supplementary Table 1 should be "milligrams (mg)" not "micrograms (μg)." The corrected Supplementary Table 1 appears below.
SUPPLEMENTARY TABLE 1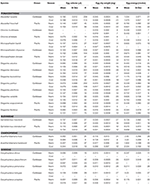 Supplementary Table 1. Summary of egg volume, dry weight, and energy content of eggs of 24 neotropical reef fishes averaged for the cool and the warm seasons.
The authors apologize for this error and state that this does not change the scientific conclusions of the article in any way. The original article has been updated.
Keywords: primary productivity, upwelling, tropical reef-fish, egg-size variation, temperature-size rule, life history evolution, Isthmus of Panama
Citation: Robertson DR and Collin R (2019) Corrigendum: Inter- and Intra-specific variation in egg size among reef fishes across the Isthmus of Panama. Front. Ecol. Evol. 7:83. doi: 10.3389/fevo.2019.00083
Received: 20 February 2019; Accepted: 05 March 2019;
Published: 27 March 2019.
Edited and reviewed by: Michael Arthur St. John, Technical University of Denmark, Denmark
Copyright © 2019 Robertson and Collin. This is an open-access article distributed under the terms of the Creative Commons Attribution License (CC BY). The use, distribution or reproduction in other forums is permitted, provided the original author(s) and the copyright owner(s) are credited and that the original publication in this journal is cited, in accordance with accepted academic practice. No use, distribution or reproduction is permitted which does not comply with these terms.
*Correspondence: D. Ross Robertson, drr@stri.org
†These authors have contributed equally to this work