Corrigendum: The Internal, External and Extended Microbiomes of Hominins
1Department of Applied Ecology, North Carolina State University, Raleigh, NC, United States
2Centre for Evolutionary Hologenomics, The GLOBE Institute, University of Copenhagen, Copenhagen, Denmark
3Department of Anthropology, Northwestern University, Evanston, IL, United States
4Department of Biological Sciences, University of Notre Dame, Notre Dame, IN, United States
5Max Planck Institute for Evolutionary Anthropology, Leipzig, Germany
6Department of Anthropology, University of Nevada, Las Vegas, Las Vegas, NV, United States
A Corrigendum on
The Internal, External and Extended Microbiomes of Hominins
by Dunn, R. R., Amato, K. R., Archie, E. A., Arandjelovic, M., Crittenden, A. N., and Nichols, L. M. (2020). Front. Ecol. Evol. 8:25. doi: 10.3389/fevo.2020.00025
In the original article, there was a mistake in Figure 1. Colobus monkeys and Langur monkeys were misclassified as omnivores rather than as folivores; and "Sykes monkeys" was misspelled and misclassified as an herbivore rather than as an omnivore. The corrected Figure 1 appears below.
FIGURE 1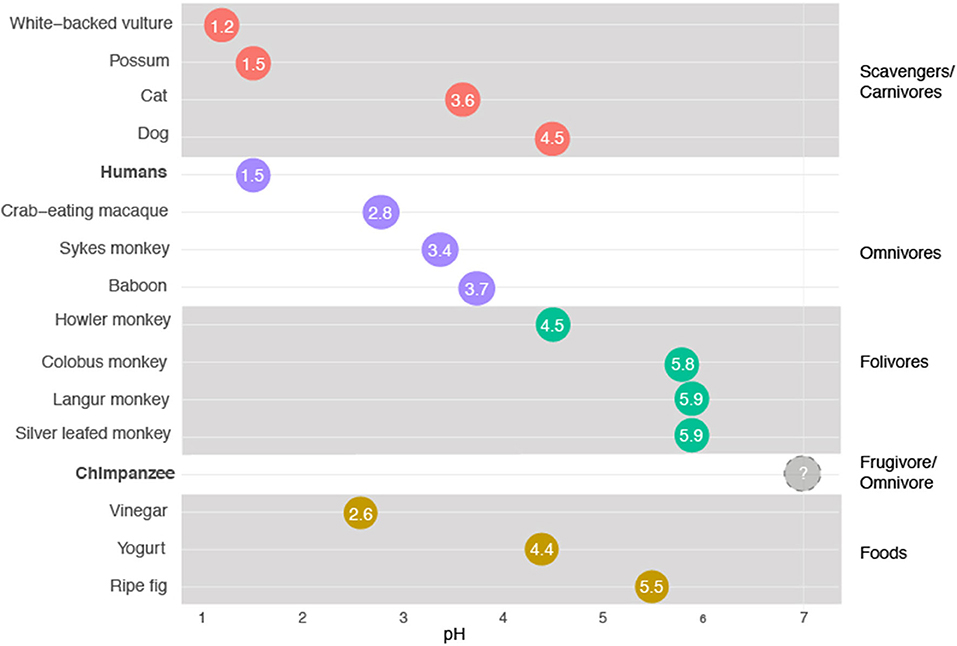 Figure 1. Stomach pH as a function of animal species. A pH of 7 is neutral. Data for chimpanzees come from a single laboratory study of a single individual chimpanzee. A sampling of acidic foods eaten by modern humans is included for reference.
The authors apologize for this error and state that this does not change the scientific conclusions of the article in any way. The original article has been updated.
Keywords: fermentation, primates, prosocial microbes, feces, food, armpits, alcohol
Citation: Dunn RR, Amato KR, Archie EA, Arandjelovic M, Crittenden AN and Nichols LM (2020) Corrigendum: The Internal, External and Extended Microbiomes of Hominins. Front. Ecol. Evol. 8:236. doi: 10.3389/fevo.2020.00236
Received: 16 June 2020; Accepted: 29 June 2020;
Published: 19 August 2020.
Edited and reviewed by: Peter H. W. Biedermann, University of Freiburg, Germany
Copyright © 2020 Dunn, Amato, Archie, Arandjelovic, Crittenden and Nichols. This is an open-access article distributed under the terms of the Creative Commons Attribution License (CC BY). The use, distribution or reproduction in other forums is permitted, provided the original author(s) and the copyright owner(s) are credited and that the original publication in this journal is cited, in accordance with accepted academic practice. No use, distribution or reproduction is permitted which does not comply with these terms.
*Correspondence: Robert R. Dunn, rrdunn@ncsu.edu