CORRECTION article
Corrigendum: Plant-Induced Transgenerational Plasticity Affecting Performance but Not Preference in a Polyphagous Moth
1Division of Chemical Ecology, Department of Plant Protection Biology, Swedish University of Agricultural Sciences, Uppsala, Sweden
2Biodiversity and Crop Improvement Program, International Center of Agricultural Research in the Dry Areas, Rabat, Morocco
3Department of Evolutionary Neuroethology, Max Planck Institute for Chemical Ecology, Jena, Germany
In the original article, there was a mistake in Figure 5 as published. On the y-axis, the weight of the pupae is given in gram (g) while it should be milligram (mg). The corrected Figure 5 appears below.
FIGURE 5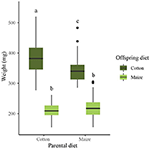 Figure 5. Pupal weight of larvae reared on maize (light green boxes) and cotton (dark green boxes) of parents reared on either a matching or mismatching diet. Boxplots show means (black lines) and 25–75% percentiles. Whiskers show data ranges, excluding outliers (black circles, defined as values more than one box length from the upper and lower edges of the corresponding boxes). Different letters indicate significant between-treatment differences (LM, Tukey's HSD test, P < 0.05).
The authors apologize for this error and state that this does not change the scientific conclusions of the article in any way. The original article has been updated.
Keywords: within-generation phenotypic plasticity, transgenerational phenotypic plasticity, anticipatory plasticity, larval performance, insect behaviour, Lepidoptera, Spodoptera littoralis
Citation: Rösvik A, Lhomme P, Khallaf MA and Anderson P (2020) Corrigendum: Plant-Induced Transgenerational Plasticity Affecting Performance but Not Preference in a Polyphagous Moth. Front. Ecol. Evol. 8:598395. doi: 10.3389/fevo.2020.598395
Received: 24 August 2020; Accepted: 16 September 2020;
Published: 23 October 2020.
Edited and reviewed by: Elise Huchard, UMR5554 Institut des Sciences de l'Evolution de Montpellier (ISEM), France
Copyright © 2020 Rösvik, Lhomme, Khallaf and Anderson. This is an open-access article distributed under the terms of the Creative Commons Attribution License (CC BY). The use, distribution or reproduction in other forums is permitted, provided the original author(s) and the copyright owner(s) are credited and that the original publication in this journal is cited, in accordance with accepted academic practice. No use, distribution or reproduction is permitted which does not comply with these terms.
*Correspondence: Axel Rösvik, axel.rosvik@slu.se
†These authors have contributed equally to this work
‡ORCID: Axel Rösvik orcid.org/0000-0003-4481-1828
Patrick Lhomme orcid.org/0000-0001-6735-9104
Mohammed A. Khallaf orcid.org/0000-0002-1402-3858
Peter Anderson orcid.org/0000-0003-4105-8236