Correction ARTICLE
Corrigendum: Telmisartan Prevents Alveolar Bone Loss by Decreasing the Expression of Osteoclasts Markers in Hypertensive Rats With Periodontal Disease
1Department of Basic Sciences, School of Dentistry, São Paulo State University (UNESP), Araçatuba, Brazil
2Multicenter Postgraduate Program in Physiological Sciences, Brazilian Society of Physiology, School of Dentistry, São Paulo State University (UNESP), Araçatuba, Brazil
3Department of Stomatology, Bauru School of Dentistry, University of São Paulo, Bauru, Brazil
4Department of Biological Science, Bauru School of Dentistry, University of São Paulo, Bauru, Brazil
A Corrigendum on
Telmisartan Prevents Alveolar Bone Loss by Decreasing the Expression of Osteoclasts Markers in Hypertensive Rats With Periodontal Disease
by Brito, V. G. B., Patrocinio, M. S., Linjardi, M. C., Barreto, A. E. A., Frasnelli, S. C. T., Lara, V., Santos, C. F., and Oliveira, S. H. P. Front. Pharmacol. 11:579926. doi: 10.3389/fphar.2020.579926
In the original article, there was a mistake in Figure 3 as published. On Figure 3 panel F, an error was made when assembling the representative imagens on the board, and the same image was included twice for the SHR Control group and SHR Telm + PD group. The correct representative image for the SHR Control group was included and the corrected Figure 3 appears below.
The authors apologize for these errors and state that this does not change the scientific conclusions of the article in any way. The original article has been updated.
FIGURE 3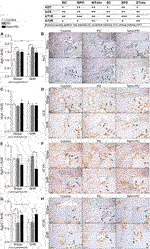 FIGURE 3. RAS components expression in mandibles of Wistar (non-hypertensive) and SHR with PD 15 days, treated with telmisartan. Respectively qRT-PCR and IHC for Agt (A,B), Ace (C,D), Agtr1 (E,F), and Agtr2 (G,H). Graphs show mean ± SEM (n = 6). Statistical difference are represented by brackets labeled by *p < 0.05, **p < 0.01, ***p < 0.001, and ****p < 0.0001, comparing Control vs. PD, PD vs. Telm + PD, and Wistar vs. SHR in the same experimental condition. Board shows representative images, and upper table presents the average immunostaining patter from each experimental group (n = 5). Black arrows point bone forming cells positive stained (osteoblasts and osteocytes), and white arrows indicate positive stained alveolar bone adjacent connective tissue.
Keywords: telmisartan, AT1 blocker, bone metabolism, spontaneous hypertensive rats, periodontal disease, osteoblast, osteoclast, cytokines
Citation: Brito VGB, Patrocinio MS, Linjardi MC, Emanuelli Alves Barreto A, Frasnelli SC, Lara V, Santos CF and Oliveira SHP (2021) Corrigendum: Telmisartan Prevents Alveolar Bone Loss by Decreasing the Expression of Osteoclasts Markers in Hypertensive Rats With Periodontal Disease. Front. Pharmacol. 11:635927. doi: 10.3389/fphar.2020.635927
Received: 30 November 2020; Accepted: 23 December 2020;
Published: 19 February 2021.
Edited and reviewed by:
Ulrike Garscha
, University of Greifswald, Germany
Copyright © 2021 Brito, Patrocinio, Linjardi, Barreto, Frasnelli, Lara, Santos and Oliveira. This is an open-access article distributed under the terms of the Creative Commons Attribution License (CC BY). The use, distribution or reproduction in other forums is permitted, provided the original author(s) and the copyright owner(s) are credited and that the original publication in this journal is cited, in accordance with accepted academic practice. No use, distribution or reproduction is permitted which does not comply with these terms.
*Correspondence: Sandra Helena Penha Oliveira, sandra.hp.oliveira@unesp.br