CORRECTION article
Corrigendum: A Comparison Between Two Different Approaches for a Collaborative Mixed-Virtual Environment in Industrial Maintenance
Dipartimento di Automatica e Informatica, Politecnico di Torino, Turin, Italy
In the original article, there was a mistake in Figure 3, Figure 7, and Figure 8 as published. Due to non-disclosure agreement complications, three figures of the paper should be replaced. The paper's authors apologize for these errors and they ensure that the main subject of the figures has not changed, only a few adjustments have been made to the background and very few details have been cut off from the images. These adjustments do not compromise the reading of the article in any way. The three figures are the following (notice that the same name conventions has been used). The original article has been updated.
FIGURE 3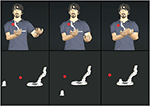 Figure 3. First row: from left to right, one of the assembly animations played by the virtual avatar. Second row: the same animation played without the virtual avatar in the abstract AR interface.
FIGURE 7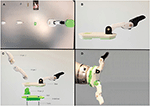 Figure 7. Top-left image (A): the initial configuration. Top-right image (B): the finger already assembled. Bottom-left image (C): the renamed hand pieces. Bottom-right image (D): the complete hand placed at the end-effector position.
FIGURE 8
Keywords: augmented reality, virtual reality, mixed-reality, shared-reality, collaborative environment, interfaces, industry 4.0
Citation: De Pace F, Manuri F, Sanna A and Zappia D (2019) Corrigendum: A Comparison Between Two Different Approaches for a Collaborative Mixed-Virtual Environment in Industrial Maintenance. Front. Robot. AI 6:51. doi: 10.3389/frobt.2019.00051
Received: 19 June 2019; Accepted: 21 June 2019;
Published: 11 July 2019.
Copyright © 2019 De Pace, Manuri, Sanna and Zappia. This is an open-access article distributed under the terms of the Creative Commons Attribution License (CC BY). The use, distribution or reproduction in other forums is permitted, provided the original author(s) and the copyright owner(s) are credited and that the original publication in this journal is cited, in accordance with accepted academic practice. No use, distribution or reproduction is permitted which does not comply with these terms.
*Correspondence: Francesco De Pace, francesco.depace@polito.it