Corrigendum: Syn-Emplacement Fracturing in the Sandfell Laccolith, Eastern Iceland—Implications for Rhyolite Intrusion Growth and Volcanic Hazards
1Department of Earth Sciences, Uppsala University, Uppsala, Sweden
2Center for Natural Hazards and Disaster Science, Uppsala University, Uppsala, Sweden
In the original article, there was a mistake in Figure 7B, Supplementary Table 1 and Supplementary Figure 2 as published. The data from the anisotropy of magnetic susceptibility measurements were presented in upper-hemisphere projection, while stated as lower-hemisphere projection in the text. The corrected Figure 7 appears below.
FIGURE 7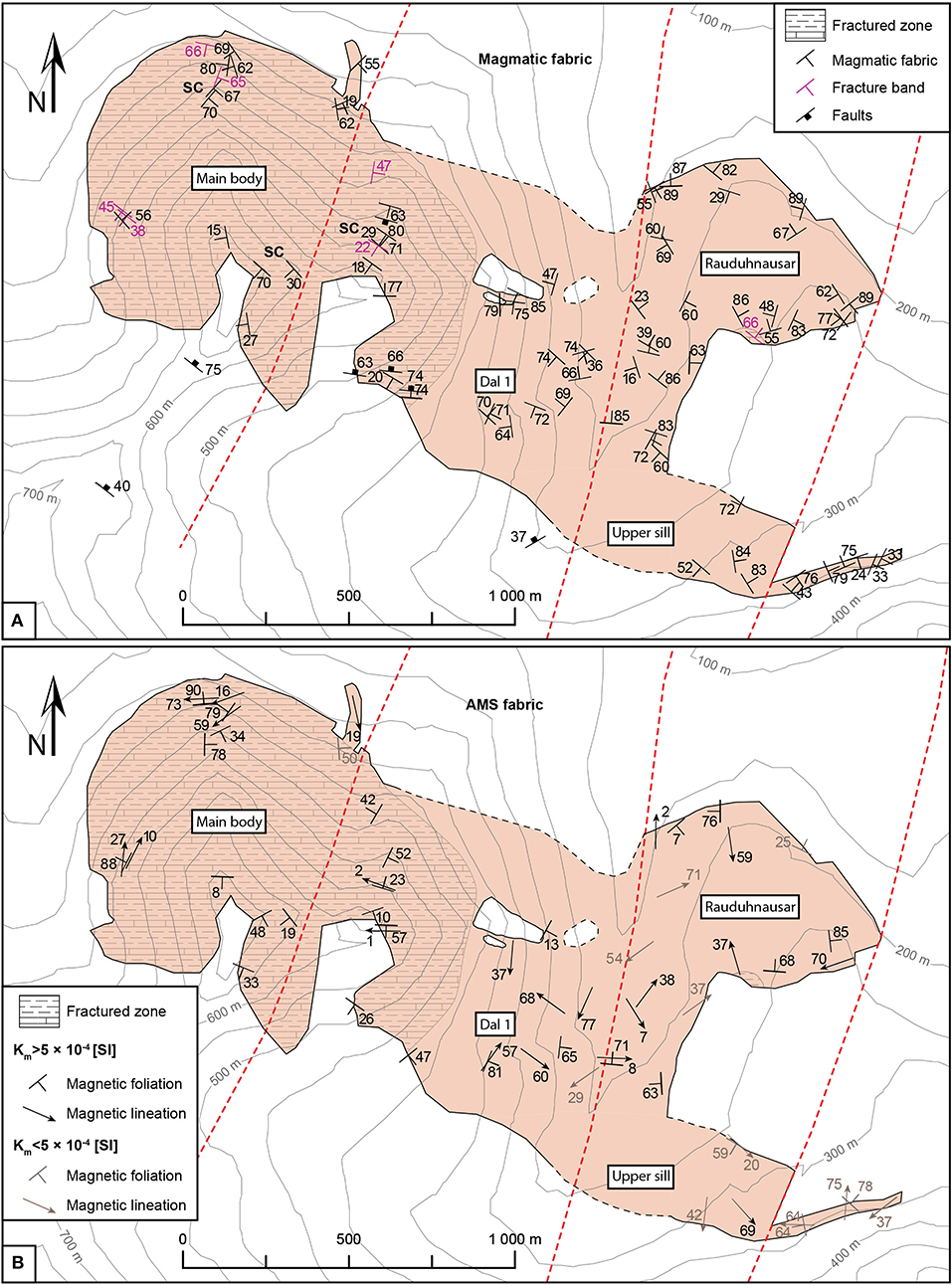 Figure 7. (A) Magmatic flow indicator measurements (mineral alignments, flow bands, platy parting) and fracture bands and larger-scale faults in the Sandfell laccolith. Areas with observed S-C fabric are denoted with the letters "SC" in bold on the map. (B) AMS fabric plotted on map of the Sandfell laccolith. The map includes data from samples with weak magnetic fabric (Km< 5 × 10−4 [SI]). The fracture-banded areas of the laccolith are specified on the map as fractured zone. See Supplementary Video S1 for a 3D interpretation of magma flow.
The authors apologize for this error and state that this does not change the scientific conclusions of the article in any way. The original article has been updated.
Keywords: laccolith, cryptodome, magma flow, intrusion emplacement, strain localization, magma degassing, volcanic hazards
Citation: Mattsson T, Burchardt S, Almqvist BSG and Ronchin E (2020) Corrigendum: Syn-Emplacement Fracturing in the Sandfell Laccolith, Eastern Iceland—Implications for Rhyolite Intrusion Growth and Volcanic Hazards. Front. Earth Sci. 8:60. doi: 10.3389/feart.2020.00060
Received: 23 January 2020; Accepted: 19 February 2020;
Published: 03 March 2020.
Edited and reviewed by: Shanaka L. de Silva, Oregon State University, United States
Copyright © 2020 Mattsson, Burchardt, Almqvist and Ronchin. This is an open-access article distributed under the terms of the Creative Commons Attribution License (CC BY). The use, distribution or reproduction in other forums is permitted, provided the original author(s) and the copyright owner(s) are credited and that the original publication in this journal is cited, in accordance with accepted academic practice. No use, distribution or reproduction is permitted which does not comply with these terms.
*Correspondence: Tobias Mattsson, tobias.mattsson@geo.uu.se