Corrigendum: Public Acceptance of Nature-Based Solutions for Natural Hazard Risk Reduction: Survey Findings From Three Study Sites in Europe
1School of Interdisciplinary Studies, University of Glasgow, Dumfries, United Kingdom
2The BEAM Research Centre, School of Computing, Engineering and Built Environment, Glasgow Caledonian University, Glasgow, United Kingdom
3Natural Resources Institute Finland (Luke), Helsinki, Finland
4Innovative Technologies Centre, Athens, Greece
5General Department, National and Kapodistrian University of Athens, Athens, Greece
A corrigendum on
Public Acceptance of Nature‐Based Solutions for Natural Hazard Risk Reduction: Survey Findings From Three Study Sites in Europe
by Anderson, C. C., Renaud, F. G., Hanscomb, S., Munro, K. E., Gonzalez-Ollauri, A., Thomson, C. S., Pouta, E., Soini, K., Loupis, M., Panga, D., and Stefanopoulou, M. (2021). Front. Environ. Sci. 9:678–938. doi: 10.3389/fenvs.2021.678938
In the original article, there was a mistake in Figure 1 as published. The figure should have panels (A) and (B) but was published only with (A). Figure 1B provides characteristics of the NbS study sites, including hazard type and primary NbS being implemented within the OPERANDUM project. The corrected Figure 1 appears below.
FIGURE 1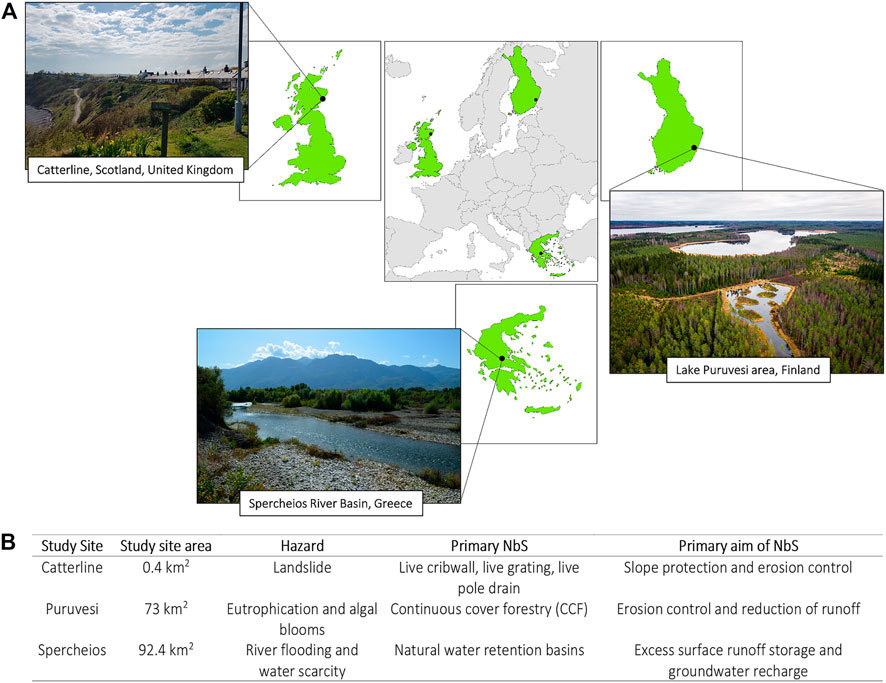 FIGURE 1. Three European NbS study sites (A) and their characteristics, including hazard type and primary NbS being implemented within the OPERANDUM project (B). Map: European Commission, Eurostat, https://ec.europa.eu/eurostat/web/gisco/geodata/reference-data/administrative-units-statistical-units/countries. Photo credits: Catterline, Dr Karen Munro; Puruvesi, Pro Puruvesi ry; Spercheios, KKT-ITC S.A.
The authors apologize for this error and state that this does not change the scientific conclusions of the article in any way. The original article has been updated.
Keywords: nature-based solutions (nbs), climate change, public acceptance, public perception, stakeholder engagement, hydro-meteorological hazards, community action
Citation: Anderson CC, Renaud FG, Hanscomb S, Munro KE, Gonzalez-Ollauri A, Thomson CS, Pouta E, Soini K, Loupis M, Panga D and Stefanopoulou M (2021) Corrigendum: Public Acceptance of Nature-Based Solutions for Natural Hazard Risk Reduction: Survey Findings From Three Study Sites in Europe. Front. Environ. Sci. 9:767449. doi: 10.3389/fenvs.2021.767449
Received: 30 August 2021; Accepted: 03 September 2021;
Published: 22 September 2021.
Edited and reviewed by:
Giuseppe Feola
, Utrecht University, Netherlands
Copyright © 2021 Anderson, Renaud, Hanscomb, Munro, Gonzalez-Ollauri, Thomson, Pouta, Soini, Loupis, Panga and Stefanopoulou. This is an open-access article distributed under the terms of the Creative Commons Attribution License (CC BY). The use, distribution or reproduction in other forums is permitted, provided the original author(s) and the copyright owner(s) are credited and that the original publication in this journal is cited, in accordance with accepted academic practice. No use, distribution or reproduction is permitted which does not comply with these terms.
*Correspondence: Carl C. Anderson, c.anderson.4@research.gla.ac.uk