CORRECTION article
Corrigendum: Total OH Reactivity Changes Over the Amazon Rainforest During an El Niño Event
1Atmospheric Chemistry, Biogeochemistry, and Multiphase Chemistry Departments, Max Planck Institute for Chemistry, Mainz, Germany
2Department of Civil and Environmental Engineering, Massachusetts Institute of Technology, Cambridge, MA, United States
3Large-Scale Biosphere-Atmosphere Experiment in Amazonia (LBA), Instituto Nacional de Pesquisas da Amazônia, Manaus, Brazil
4Empresa Brasileira de Pesquisa Agropecuária Amazonia Oriental, Belém, Brazil
5Biogeochemical Systems Department, Max Planck Institute for Biogeochemistry, Jena, Germany
6Department of Physics, Federal Institute of Education, Science and Technology (IFPA), Belem, Brazil
A Corrigendum on
Total OH Reactivity Changes Over the Amazon Rainforest During an El Niño Event
by Pfannerstill, E. Y., Nölscher, A. C., Yáñez-Serrano, A. M., Bourtsoukidis, E., Keßel, S., Janssen, R. H. H., Tsokankunku, A., Wolff, S., Sörgel, M., Sá, M. O., Araújo, A., Walter, D., Lavrič, J., Dias-Júnior, C. Q., Kesselmeier, J., and Williams, J. (2018). Front. For. Glob. Change 1:12. doi: 10.3389/ffgc.2018.00012
In the original article, there was a mistake in Figure 5 as published. Due to a labeling error, a factor of 10−1 was omitted from the label of the left y axis (Isoprene flux). The corrected Figure 5 appears below.
FIGURE 5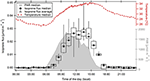 Figure 5. Diel hourly averages and medians of isoprene fluxes measured at 41 m above ground level at the ATTO site between November 11 and 23, 2015. Boxes and whiskers represent the 25–75th and 5–95th percentiles, respectively. The diel medians of photosynthetic active radiation (PAR) and ambient temperature measured at the same height are displayed on the right axes.
The authors apologize for this error and state that this does not change the scientific conclusions of the article in any way. The original article has been updated.
Publisher's Note
All claims expressed in this article are solely those of the authors and do not necessarily represent those of their affiliated organizations, or those of the publisher, the editors and the reviewers. Any product that may be evaluated in this article, or claim that may be made by its manufacturer, is not guaranteed or endorsed by the publisher.
Keywords: El Niño, OH reactivity, Amazon, drought, warming, abiotic stress, biogenic volatile organic compounds (BVOCs)
Citation: Pfannerstill EY, Nölscher AC, Yáñez-Serrano AM, Bourtsoukidis E, Keßel S, Janssen RHH, Tsokankunku A, Wolff S, Sörgel M, Sá MO, Araújo A, Walter D, Lavrič J, Dias-Júnior CQ, Kesselmeier J and Williams J (2022) Corrigendum: Total OH Reactivity Changes Over the Amazon Rainforest During an El Niño Event. Front. For. Glob. Change 5:952123. doi: 10.3389/ffgc.2022.952123
Received: 24 May 2022; Accepted: 31 May 2022;
Published: 21 June 2022.
Edited and reviewed by: Jaana Bäck, University of Helsinki, Finland
Copyright © 2022 Pfannerstill, Nölscher, Yáñez-Serrano, Bourtsoukidis, Keßel, Janssen, Tsokankunku, Wolff, Sörgel, Sá, Araújo, Walter, Lavrič, Dias-Júnior, Kesselmeier and Williams. This is an open-access article distributed under the terms of the Creative Commons Attribution License (CC BY). The use, distribution or reproduction in other forums is permitted, provided the original author(s) and the copyright owner(s) are credited and that the original publication in this journal is cited, in accordance with accepted academic practice. No use, distribution or reproduction is permitted which does not comply with these terms.
*Correspondence: Eva Y. Pfannerstill, eva.pfannerstill@mpic.de
†Present address: Anke C. Nölscher, German Weather Service, Offenbach am Main, Germany
Ana M. Yáñez-Serrano, Ecosystem Physiology Department, Albert Ludwigs University, Freiburg, Germany