Correction ARTICLE
Corrigendum: Leadership Training to Increase Need Satisfaction at Work: A Quasi-Experimental Mixed Method Study
1Department of Psychology, Umeå University, Umeå, Sweden
2Medical Management Centre, Department of Learning, Informatics, Management and Ethics Karolinska Institutet, Solna, Sweden
3School of Health, Care and Social Welfare, Mälardalen University, Västerås, Sweden
In the original article, there was a mistake in Table 1 as published. Autonomy support ratings for employees across the three time points were missing. There were also some minor formatting errors that have been corrected. The corrected Table 1 appears below.
TABLE 1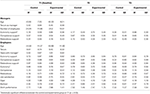 Table 1. Characteristics of participants at baseline and descriptive statistics of the study variables.
The authors apologize for these errors and state that this does not change the scientific conclusions of the article in any way. The original article has been updated.
Keywords: basic psychological needs theory, leadership training, self-determination theory, need support, quasi-experimental design, focus group interviews
Citation: Tafvelin S, von Thiele Schwarz U and Stenling A (2020) Corrigendum: Leadership Training to Increase Need Satisfaction at Work: A Quasi-Experimental Mixed Method Study. Front. Psychol. 11:937. doi: 10.3389/fpsyg.2020.00937
Received: 10 February 2020; Accepted: 15 April 2020;
Published: 05 May 2020.
Edited and reviewed by: Con Stough, Swinburne University of Technology, Australia
Copyright © 2020 Tafvelin, von Thiele Schwarz and Stenling. This is an open-access article distributed under the terms of the Creative Commons Attribution License (CC BY). The use, distribution or reproduction in other forums is permitted, provided the original author(s) and the copyright owner(s) are credited and that the original publication in this journal is cited, in accordance with accepted academic practice. No use, distribution or reproduction is permitted which does not comply with these terms.
*Correspondence: Susanne Tafvelin, susanne.tafvelin@umu.se