CORRECTION article
Corrigendum: Divisions of labor in the thiamin biosynthetic pathway among organs of maize
1Genetics Institute and Horticultural Sciences Department, Institute of Food and Agricultural Sciences, University of Florida, Gainesville, FL, United States
2Horticultural Sciences Department, Institute of Food and Agricultural Sciences, University of Florida, Gainesville, FL, United States
3Department of Pathology, Immunology, and Laboratory Medicine, College of Medicine, University of Florida, Gainesville, FL, United States
4Department of Food Science and Human Nutrition, Institute of Food and Agricultural Sciences, University of Florida, Gainesville, FL, United States
A corrigendum on
Divisions of labor in the thiamin biosynthetic pathway among organs of maize
by Guan, J.-C., Hasnain, G., Garrett, T. J., Chase, C. D., Gregory, J., Hanson, A. D., et al. (2014). Front. Plant Sci. 5:370. doi: 10.3389/fpls.2014.00370
In the original article, there was a mistake in Figure 6 as published. The scale of the y-axis was a factor of 10 too large. The corrected Figure 6 appears below. The authors apologize for this error and state that this does not change the scientific conclusions of the article in any way.
FIGURE 6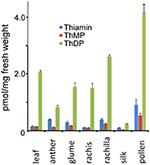 Figure 6. Thiamin and thiamin phosphate ester contents of maize leaves, inflorescence and floral organs. Thiamin content (pmol/mg of FW tissue) was determined as described in Methods. Bars: Standard error of the mean, n = 3.
The original article has been updated.
Conflict of Interest Statement
The authors declare that the research was conducted in the absence of any commercial or financial relationships that could be construed as a potential conflict of interest.
Keywords: thiamin biosynthesis, comparative transcriptomics, maize development, pollen development, meristem metabolism
Citation: Guan J-C, Hasnain G, Garrett TJ, Chase CD, Gregory J, Hanson AD and McCarty DR (2018) Corrigendum: Divisions of labor in the thiamin biosynthetic pathway among organs of maize. Front. Plant Sci. 9:148. doi: 10.3389/fpls.2018.00148
Received: 16 January 2018; Accepted: 29 January 2018;
Published: 20 February 2018.
Edited and reviewed by: Joshua L. Heazlewood, University of Melbourne, Australia
Copyright © 2018 Guan, Hasnain, Garrett, Chase, Gregory, Hanson and McCarty. This is an open-access article distributed under the terms of the Creative Commons Attribution License (CC BY). The use, distribution or reproduction in other forums is permitted, provided the original author(s) and the copyright owner are credited and that the original publication in this journal is cited, in accordance with accepted academic practice. No use, distribution or reproduction is permitted which does not comply with these terms.
*Correspondence: Donald R. McCarty, drm@ufl.edu