Correction ARTICLE
Corrigendum: Effects of Short- and Long-Term Variation in Resource Conditions on Soil Fungal Communities and Plant Responses to Soil Biota
1Division of Biological Sciences, University of Montana, Missoula, MT, United States
2MPG Ranch, Missoula, MT, United States
3Department of Ecosystem and Conservation Sciences, University of Montana, Missoula, MT, United States
A Corrigendum on
Effects of Short- and Long-Term Variation in Resource Conditions on Soil Fungal Communities and Plant Responses to Soil Biota
by Hahn, P. G., Bullington, L., Larkin, B., LaFlamme, K., Maron, J. L., and Lekberg, Y. (2018). Front. Plant Sci. 9:1605. doi: 10.3389/fpls.2018.01605
In the original article, there was a mistake in Figure 4 as published. The labels on the x-axis were switched around and did not properly align with the plotted data. The corrected Figure 4 appears below.
FIGURE 4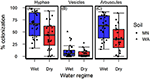 Figure 4. Colonization of AMF (A) hyphae, (B) vesicles, and (C) arbuscules on Asclepias speciosa plants growing in live soil exposed to dry and wet watering treatments.
The authors apologize for this error and state that this does not change the scientific conclusions of the article in any way. The original article has been updated.
Keywords: arbuscular mycorrhizal fungi, context-dependent, drought stress, intraspecific variation, plant-soil feedback, plant defense, plant traits, soil fungi
Citation: Hahn PG, Bullington L, Larkin B, LaFlamme K, Maron JL and Lekberg Y (2019) Corrigendum: Effects of Short- and Long-Term Variation in Resource Conditions on Soil Fungal Communities and Plant Responses to Soil Biota. Front. Plant Sci. 9:1937. doi: 10.3389/fpls.2018.01937
Received: 14 November 2018; Accepted: 12 December 2018;
Published: 07 January 2019.
Edited and reviewed by: Choong-Min Ryu, Korea Research Institute of Bioscience and Biotechnology (KRIBB), South Korea
Copyright © 2019 Hahn, Bullington, Larkin, LaFlamme, Maron and Lekberg. This is an open-access article distributed under the terms of the Creative Commons Attribution License (CC BY). The use, distribution or reproduction in other forums is permitted, provided the original author(s) and the copyright owner(s) are credited and that the original publication in this journal is cited, in accordance with accepted academic practice. No use, distribution or reproduction is permitted which does not comply with these terms.
*Correspondence: Philip G. Hahn, phil.hahn@mso.umt.edu