Correction ARTICLE
Corrigendum: The Involvement of Nitric Oxide in Integration of Plant Physiological and Ultrastructural Adjustments in Response to Arsenic
1Laboratório de Ecofisiologia Vegetal, Instituto Federal Goiano, Rio Verde, Brazil
2Departamento de Biologia Geral, Universidade Federal de Viçosa, Viçosa, Brazil
3Departamento de Botânica, Instituto de Ciências Biológicas, Universidade Federal de Minas Gerais, Belo Horizonte, Brazil
A corrigendum on
The Involvement of Nitric Oxide in Integration of Plant Physiological and Ultrastructural Adjustments in Response to Arsenic
by Farnese, F. S., Oliveira, J. A., Paiva, E. A. S., Menezes-Silva, P. E., da Silva, A. A., Campos, F. V., et al. (2017). Front. Plant Sci. 8:516. doi: 10.3389/fpls.2017.00516
In the original article, there was a mistake in the legend for Figure 1 as published. Figure 1 will be replaced and therefore the caption should also be changed. The correct legend appears below. The authors apologize for this error and state that this does not change the scientific conclusions of the article in any way.
FIGURE 1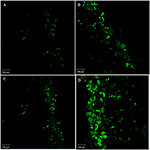 Figure 1. Representative images illustrating the confocal laser immunofluorescent detection of NO in Pistia stratiotes leaves. NO was detected by its bright green fluorescence after incubation with DAF-2DA. Control plants with DAF-2DA (A); Plants treated with SNP and DAF-2DA (B); Plants exposed to arsenic and incubated with DAF-2DA (C); Plants exposed to arsenic + SNP and incubated with DAF-2DA (D).
Conflict of Interest Statement
The authors declare that the research was conducted in the absence of any commercial or financial relationships that could be construed as a potential conflict of interest.
Keywords: Pistia stratiotes, photosynthesis, programmed cell death, respiration, cell signaling
Citation: Farnese FS, Oliveira JA, Paiva EAS, Menezes-Silva PE, da Silva AA, Campos FV and Ribeiro C (2017) Corrigendum: The Involvement of Nitric Oxide in Integration of Plant Physiological and Ultrastructural Adjustments in Response to Arsenic. Front. Plant Sci. 8:979. doi: 10.3389/fpls.2017.00979
Received: 16 May 2017; Accepted: 23 May 2017;
Published: 02 June 2017.
Edited and reviewed by: Vicent Arbona, Jaume I University, Spain
Copyright © 2017 Farnese, Oliveira, Paiva, Menezes-Silva, da Silva, Campos and Ribeiro. This is an open-access article distributed under the terms of the Creative Commons Attribution License (CC BY). The use, distribution or reproduction in other forums is permitted, provided the original author(s) or licensor are credited and that the original publication in this journal is cited, in accordance with accepted academic practice. No use, distribution or reproduction is permitted which does not comply with these terms.
*Correspondence: Fernanda S. Farnese, fernanda.farnese@ifgoiano.edu.br