Correction ARTICLE
Corrigendum: Mannitol Stress Directs Flavonoid Metabolism toward Synthesis of Flavones via Differential Regulation of Two Cytochrome P450 Monooxygenases in Coleus forskohlii
1Indian Institute of Integrative Medicine (CSIR-IIIM), Council of Scientific and Industrial Research, Jammu, India
2Quality Control, Quality Assurance & CMC Division, Council of Scientific and Industrial Research-Indian Institute of Integrative Medicine, Jammu, India
3Division of Biological Science, Faculty of Science, Academy of Scientific and Innovative Research, Kolkata, India
In this published article, there was a labeling error in the graph-legend of Figure 3B. Correct labeling is: Red line and blue line stand for CfCYP706C and CfCYP93B respectively. Corrected Figure 3B is presented here.
FIGURE 3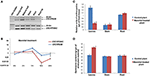 Figure 3. Expression study of CfCYP93B and CfCYP706C and its correlation with genkwanin and anthocyanin content. (A) Semi quantitative RT-PCR expression study of CfCYP93B and CfCYP706C in different tissues (young leaves, mature leaves, stems, roots and root tips) of C. forskohlii (B) qPCR study of CfCYP93B and CfCYP706C in response to mannitol treatment at diffetent time interval (0 h, 2 h, 5 h, 10 h and 24 h). Actin was used as housekeeping gene. For qPCR study, p < 0.05. (C) Relative anthocyanin units in different tissues (leaves, stem and root) in response to mannitol treatment. (D) Genkwanin content in different tissues (leaf, stem and root) in response to mannitol treatment. *p < 0.05.
The authors apologize for this error and state that this does not change the scientific conclusions of the article in any way.
The original article has been updated.
Conflict of Interest Statement
The authors declare that the research was conducted in the absence of any commercial or financial relationships that could be construed as a potential conflict of interest.
Keywords: 7-O-methylapigenin, CYP93B, CYP706C, genkwanin, naringenin
Citation: Awasthi P, Gupta AP, Bedi YS, Vishwakarma RA and Gandhi SG (2018) Corrigendum: Mannitol Stress Directs Flavonoid Metabolism toward Synthesis of Flavones via Differential Regulation of Two Cytochrome P450 Monooxygenases in Coleus forskohlii. Front. Plant Sci. 8:2222. doi: 10.3389/fpls.2017.02222
Received: 01 December 2017; Accepted: 18 December 2017;
Published: 08 January 2018.
Edited and reviewed by: James Lloyd, Stellenbosch University, South Africa
Copyright © 2018 Awasthi, Gupta, Bedi, Vishwakarma and Gandhi. This is an open-access article distributed under the terms of the Creative Commons Attribution License (CC BY). The use, distribution or reproduction in other forums is permitted, provided the original author(s) or licensor are credited and that the original publication in this journal is cited, in accordance with accepted academic practice. No use, distribution or reproduction is permitted which does not comply with these terms.
*Correspondence: Sumit G. Gandhi, sumit@iiim.ac.in